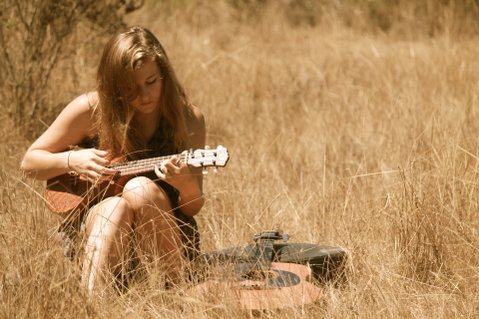 Jamey Geston
Genre: Singer-songwriter
Web site: http://www.JameyGestonMusic.com/
History
Southern California singer/songwriter and multi-instrumentalist Jamey Geston has been performing at festivals and showcases from Southern California to Arizona for the past few years. At the young age of 14, Jamey plays several different instruments to include the guitar: acoustic/electric, bass, ukulele, and piano.
A self-described folksy with a kick of indie-pop, "I'm really inspired by a lot of the british bands and artists like The Kooks and Birdy because they seem to know how to phrase things well, so poetic and lovely. I also enjoy Regina Spektor, Bon Iver, and Ingrid Michaelson and I take in a lot from artists like them, lyrically. I tend to do my own thing musically, however, if I had to pick and choose who I find my music to resemble and inspire me the most, I would definitely say Bon Iver, Regina Spektor, and even a bit of a throwback to the 60s with Joni Mitchell." Other music influences are NeverShoutNever, Mumford and Sons, Ed Sheeran, Edward Sharpe and The Magnetic Zeros.
In her short career, Jamey has accomplished quite a bit as she has opened for the Grammy Winner and Legendary Folksinger, Judy Collins, shared the stage with 'First Lady of Woodstock', Melanie Safka in Phoenix, AZ, has been a featured artist in Emmy Winning, BackBeat Music Magazine TV Segment, is endorsed by Daisy Rock Girl Guitars, Steve Clayton Picks, Shubb Capos and Capturing Couture guitar straps. Jamey was a finalist in "Ones to Watch" Emerging Singer/Songwriter, at Zoey's Cafe (Ventura, CA). She had the honor of being the youngest and only solo artist to debut on the new Grand Plaza Stage at the annual National Association of Music Merchants (NAMM) at the Anaheim Convention Center in Anaheim, CA in January of 2013.
As far as what she is working on, "I've been writing lots of songs and I've started preparation for recording. Hopefully by the end of this year an EP will be in progress or even complete! I'm really excited because I feel like my sound is maturing and I can't wait till I can share it with everyone who supports me!"
Upcoming shows
None scheduled
Formed
2009, Santa Barbara, CA