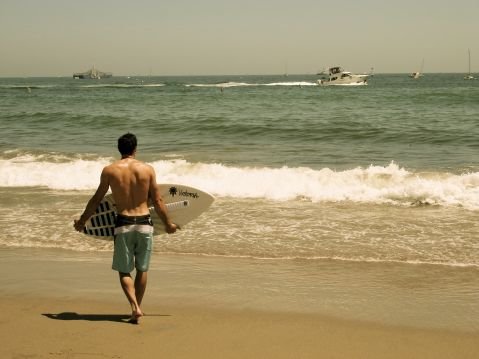 Jaret Campisi

"We Come and Go"

Musicians
Sound description: Jaret Campisi may haveve been born in Pennsylvania, but his sound is firmly rooted in Santa Barbara. Playing deceptively simple melodies spiced with unconventional chords and frantic finger work, Campisi is a master at the kind of sweet, surf-inspired acoustic rock that made Santa Barbara's music scene famous.
"My style is like Dave Matthews, Jack Johnson, and John Mayer, kind of all combined," Campisi said. "Ninety percent of the reason I moved out here was that Jack Johnson started here, which is a sad reason, but I was kind of obsessed with him."
From the occasional breaking voice on "Pineapple Sunrise" to the pensive pauses on his track "I'll Get Around," Campisi injects an earnestness and expressiveness into all of his songs. And, according to the man himself, that's what sets him apart from other area musicians.
Campisi's honesty extends to all aspects of his career. When asked whether he's planning a follow up to his 2006 iTunes release "Pineapple Sunrise," his answer was refreshingly candid.
"I moved from Pennsylvania, and I was playing music there for a living, and when I moved here I realized it's kind of expensive, so I ended up getting a real job," Campisi said. "Now I'm trying to work a real job and play music : I record all my stuff myself. I've been lazy lately, but normally I'm always recording new songs. In the past couple months, I've written 10 or 15 new songs; now, I just have to lay them down."
In the meantime, you can catch Campisi at Sandbar from 6-9 p.m. on Friday nights. -Mollie Vandor

Web site: http://www.myspace.com/jaretacoustic
Email: jaretcampisi@hotmail.com
History
Santa Barbara has been good to Jaret Campisi since the young singer-songwriter moved here from the East Coast. He's since recorded a CD, Stand for Something, played live shows, and met many fantastic musicians.
The new CD is a compilation of older and new material. By meeting so many fellow musicians, Campisi has begun working on getting a band together. He also has a weekly gig at Sandbar's happy hour, where he has given out over 500 new CDs. "We Come and Go," the song featured here, has been played on 97.5 KRUZ, and it has become a favorite of many.
Campisi's overall style is still a mix of John Mayer, Jack Johnson, and Dave Matthews, but he has also begun experimenting with the electric guitar. Playing with other musicians, and experimenting with new sounds will lend itself to a great year for Campisi's music. Keep listening for new material, and live show dates.
Upcoming shows
None scheduled
Formed
Santa Barbara, CA
Influences
My influences include Dave Matthews, John Mayer and Jack Johnson and my style is best described as a combination of these three with a little bit of myself mixed in. I have a demo CD of three songs, which are constantly changing because I can never pick my favorite three:this week it happens to be "Next to Me," "Falling Into Place" and "Stop."