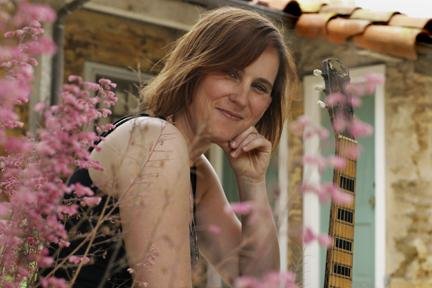 Natalie D-Napoleon
Musicians
Genres: Acoustic, Alt-Country, Folk
Sound description: Lush, lustrous, lamenting, lovely, luminous, and luscious.
RIYL: Neko Case, Emmylou Harris, kd lang, Katherine Edwards, Patty Griffin.
Web site: http://www.nataliednapoleon.com
Email: brettleighdicks@gmail.com
History
Raised on a combination of Croatian folk songs and Johnny Cash tunes as she rode the produce from their family farm to the market with her father in her native Australia, in 2008, Natalie D-Napoleon decided to call Santa Barbara home. For almost a decade Natalie fronted seminal Australian alt-country band Flavor of the Month, whose 2002 release "Fear of Falling" generated widespread critical acclaim. At the end of the band's tenure, Natalie released her debut solo recording "After The Flood" and toured Australia, the United States and Europe in support of the release. Over the years, Natalie has shared the stage with artists as diverse, as John Butler, Steve Kilbey, Morphine, John Doe, Todd Snider, Victoria Williams, and Zac Gill.
Upcoming shows
None scheduled
Formed
Santa Barbara, CA
Influences
Trader Joe's dark chocolate with almonds, red wine, and organic food.
Current status
Natalie has spent the first half of 2009 recording and has two pending releases. The first is an EP of cover versions titled "Here in California" and includes acoustic interpretations of AC/DC's, "You Shook Me All Night Long," Guy Clarke's "LA Freeway," and Kate Wolf's "Here in California," amongst others. The second recording is, "Leaving Me Dry" - a full-length album of original material produced by David Piltch (who recently co-wrote and co-produced kd lang's, "Watershed"). Recorded at Sound Design Studios in Santa Barbara, "Leaving Me Dry" features the collective talents of David Piltch (bass), Kenny Edwards (guitar and mandolin), Dan Phillips (piano and keyboard), Aaron Sterling (drums and percussion), Victoria Williams (banjo and vocals), Melanie Robinson (cello), Greg Leisz (pedal Steel), Phil Parlapiano (accordion) and Jesse Rhodes (vocals). Natalie tour's Australia in July with Victoria Williams and returns home to launch the album in Santa Barbara at the end of September.