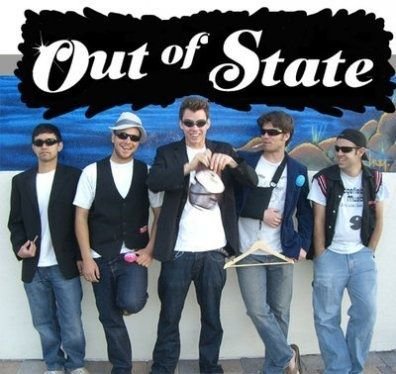 Out of State

"The Alamo"
"The Other Way"

Musicians
Sound description: Something between dance, grunge and a white Russian cocktail mixed with a bag of fresh lemons.

Born out of the ever-shifting Isla Vista music scene, these experimental punksters offer up high-energy thrash-rock with a message. If the lads of Tiger Army met the fellas of Rise Against and decided to put on a metal show, this would be it. -The Indy
RIYL: Other Nature, Gwen Stefani, Metallica, Blur, Soundgarden, Nirvana
Web site: http://www.myspace.com/outofstatepirates
Email: canyonwarrior@comcast.net
History
From the squalor of Del Playa came the boys from Out Of State. There is a part of town where keg beer continuously flows on any night of the week and is actually safer to drink than the tap water. In early 2005, in the ramshackle 6625 Del Playa Drive Unit #4 this band was born. There were poisonous mushrooms growing from the walls and the oven had an exhaust system that contained a giant bird's nest. At the end of the year the Chief of the Santa Barbara fire department paid a visit to the house and explained that if the oven had actually worked, then the bird's nest would have blocked the exhaust, subsequently starting a fire and leading to a gas line explosion.
Thankfully the members of the band survived their year at 6625 and continued to play music and develop as a band. Their 2006 self titled e.p. release earned attention in the new rock releases on iTunes with their singles "Carry The Flag" and "Save Our Tomorrow." These songs have since been featured on West Coast Rock compilations and gained them entry into playing venues like The Whisky A Go Go and The Ventura Theatre. Their music too fast to call rock, not fast enough to call punk, and just too damn uppity and wild to call grunge.
Out Of State would like to extend their gratitude for the support from their friends and fans, and from their sponsers Roller Innovation Clothing and Rinker Designs. Out of State has worked with studio engineer and producer Thom Flowers. Thom has produced sensational bands such as The Ataris and Sugarcult and has played guitar for Fat Record's band Bad Astronaut. DEMOe from all different parts of the globe. Adam is from New Jersey. Luc and John are from Idaho and Dave is from Sweden. This has resulted in their clever and cute name of "Out of State", which also has a political double meaning.
This band originated at 6625 Del Playa in Isla Vista, California. Luc and John had been playing music together for many years now in projects like the West Fork Crew, and they accepted Adam into their musical dominion. Then Adam came across Dave one night when he heard dave practicing the drums. Adam was sure that there was some type of earth quake or natural disaster taking place with the power of the tones that filled the air on that fateful evening. Dave is what this band needed to make their impact in the Isla Vista music scene.
The guys from "Out of State" started rocking in the Streets of I.V. and even landed a show at the Ventura Theatre. Their demo is a small taste of what they sound like but their live shows in Isla Vista have left a lasting impact that shows the world that kids can still play good music that will kick your ass and leave you smiling.
Please give us feedback whether you love us or you hate us. We are always looking to meet other musicians and to hear from our fans.
Where we've played: Just about every porch in IV, the Ventura Theatre, various house parties up and down the California Coast, some parties in Reno, The Next Stage Theatre in Ketchum Idaho, and the Mint
in Hailey, Idaho.
Where we're gonna play: 6625 Del Playa Drive on September the 29th, Velvet Jones, and every stadium in the USA.
Upcoming shows
None scheduled
Formed
2005, Isla Vista, CA
Influences
Nirvana, QOTSA, Madonna, AFI, Them Terribles, Jimmy Eat World, Destiny's Child, Live