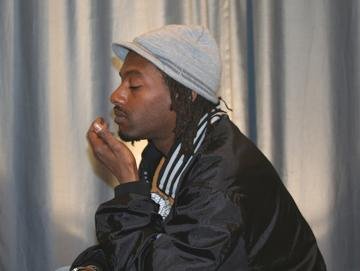 Playbac

"Home Grown Toes"

Musicians
Genre: Hip-hop / Rap
Sound description: A Bronx-born, bicoastal-raised rapper, Playbac has put his childhood experiences to good use, blending East and West Coast hip-hop styles to create a vibe that's part A Tribe Called Quest, De La Soul, and Dilated Peoples. -The Indy
Web site: http://myspace.com/playbac
Email: playbac777@hotmail.com
History
Born in South Bronx, Playbac grew up on both coasts, absorbing hip-hop from its beginnings and developing his own rap technique, which blends his influences, including Rakim, EPMD, KRS 1, and A Tribe Called Quest.
Playbac was a member of the Santa Barbara based hip-hop crew The Liborators. He has performed at Victoria Theatre, SOhO, the Coach House, and Cooney's. He was the co-host of the Santa Barbara Community Access hip-hop television show "The Liborators." Playbac performed with Matt McCavene after winning the KJEE Battle of the Bands in 2006, and opened for Eddie Money at the Black & Blue Ball.

Upcoming shows
None scheduled
Formed
Santa Barbara, CA
Influences
Guru (Gangstarr), Jungle Brothers, Erik B & Rakim, EPMD, Safir, MF Doom, Prince, DeAngelo, Marvin Gaye, Roy Ayers, The Blackbirds (Donald Bird)