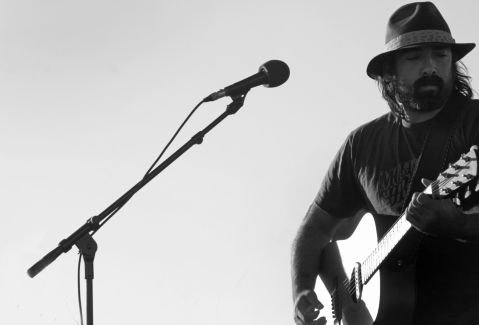 Todd Hannigan
&

The Heavy 29's

"Thicker"

Musicians
Genre: Folk Rock
Sound description: Todd's own sound is influenced by musicians like JJ Cale, Nick Drake, Mark Knopfler, Gillian Welch, and M.Ward. Todd's self-released debut, Volume 1, is a mix of the above listed influences with backing arrangements that border on Daniel Lanois-esque atmosphere. It's a record producing sounds inspired by a life spent on one of America's most picturesque coastlines. The track "Love" from Volume 1 saw regular spins on KCRW's Morning Becomes Eclectic.
RIYL: Nick Drake, Tom Petty, Explosions in the Sky, M. Ward, Iron & Wine
Web site: http://www.toddhannigan.com/
Email: brotherynrecords@hotmail.com
History
Hannigan is well know within the surf and SoCal singer/songwriter community, having played with Jack Johnson, Jackson Browne, Ben Harper, Timmy Curran, Jackie Greene, Brett Dennan, Escelera, Mick Kelleher, John Cruz, G.Love, Tristan Prettyman, White Buffalo, Donovan Frankenreiter, Sean Hayes, Ash Grunwald, etc.
He's recognized world-wide for his production and songwriting work on the soundtrack to Jack Johnson's Thicker Than Water, where he wrote and performed the title track, "Thicker."
Hannigan was co-director on Pearl Jam's "Life Wasted" video.
His latest music score was for the Award-winning film Sliding Liberia, which just won an award for Best Soundtrack at the Alma Surf Festival in Brazil.
2007 Touring Highlights:
- Headlined Lido Theatre in Newport Beach w/ White Buffalo & Escelera
- Headlined Honda Concert Stage @ the US Open of Surfing with Mick Kelleher
- Co-headlined the Boarding House Mentors @ the Canyon Club in Agoura Hills with Jackson Browne and Ben Harper.
- Headlined the Cardiff Roxy Jam w/ Rogue Wave, Ray Barbee
2008 Touring Highlights:
- Supported the legendary Leon Russell at the Malibu Inn
- Co-headlined at Stateside with Sean Hayes in Santa Barbara
- Played world-famous Alma Surf Festival in Sao Paulo, Brazil in July.
Recognition and environmental causes:
Hannigan is well-known in the action sports community, having participated in the X-Games, hosted benefits for Patagonia-supported charities, and opened the REEF world HQ in Carlsbad, CA. Todd is heavily involved in the Surfrider Foundation and other surf-focused charities and recently provided entertainment at The Greenhouse Effect, an environmental awareness event held at the Venice Contemporary.
Upcoming shows
None scheduled
Formed
2005, Ventura, CA
Influences
Mark Knofler, Cat Stevens, Tom Petty, Nick Drake
Current status
His second record, Volume 2, is due out in fall of 2008. Todd is confirmed to play SOhO on Thursday, September 25 with Escalera and Stripes and Lines, as well as the Hillside Festival on Saturday, September 13.