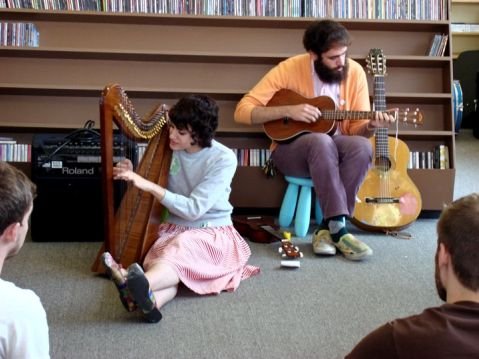 Watercolor Paintings
Musicians
Sound description: Suppose we sound like what a harp and baritone ukulele would sound like together. Folky-pop, on the quieter side? How would you describe it?
RIYL: diy punk
Web site: http://myspace.com/watercolorpaintings
Email: watercolorpaintings@gmail.com
History
Rebecca started writing songs on ukulele based on the terrible watercolor paintings party kids would paint for her while she worked the front desk at one of the UCSB residence halls. Later she started writing songs about other things. Even later she started playing the harp and her brother Josh started playing baritone ukulele along with her.
Since then they've gone on 2 national tours and 2 west coast coast tours and play a brazillion shows all the time. They like playing pretty much anywhere… diy spaces, houses, garages, art galleries, bathrooms, parks. Everywhere except bars!
We have things released on cassette, CD, and vinyl
Upcoming shows
None scheduled
Formed
2005, Santa Barbara, CA
Influences
Our friends
Current status
We're sibling. Get it right! No plans to tour right now, but still playing shows whenever kids ask us to. And have some new songs. And we still like hanging out and making friends and having fun.