Could it happen here? Could the lovely-to-look-at Montecito foothills become a ring of flame similar to what we saw last week blazing above L.A.'s Griffith Park or Catalina's Avalon? You bet it could and, according county fire officials and Montecito's own fire department, it is not a matter of if, but when.
And it won't be the first time. Since 1950, there have been eight major wildfires in Santa Barbara County's frontcountry and three of them - Romero, Sycamore, and Coyote - started in Montecito! To rock you out of complacency, here are links to the history of each of our county's past infernos.
And then there was the Gaviota Fire of 2004, which is where these accompanying photos come from.
Now, that you are on fire with fear - they don't call me Calamity J'Amy for nothing! - what action can a mere mortal take, other than diving into ostrich position and awaiting the barbeque? The answer lies in protection, prevention, and preparation.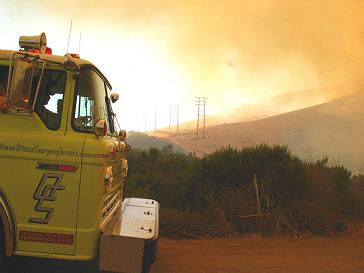 By Matt Kettmann