Goleta Restaurant
Beachside Bar-Cafe 5905 Sandspit Rd., Goleta, 964-7881
"I'm ecstatic," said Chris Martinez, a 14-year employee and manager of this fine Goleta eatery right beside that city's picturesque pier overlooking the university. "Our secret is to take care of our customers as best we can," he said, adding that 70 percent of the people who dine there are repeat eaters, drawn often from the neighborhood, including university folks, medical tech workers, and "just plain Goletans," he laughed. After 23 years, they've built on more than just a pretty location. "Thank you to the readers," said Martinez.
Finalist- Natural Cafe
Restaurant more than 25 Years Old
Neighborhood Bar
Harry's Plaza Cafe 3313 State St., 687-2800
Traditional haunts tend to carry a lot of history on their sleeves-the old menus at Cafe del Sol, the bocce courts at Arnoldi's, and the roomful of photographs in Harry's surprisingly huge back room. (If the bar could talk, there would surely be trouble.) This is a rendezvous spot, a place where regular banquets and anniversaries take place fueled by reliably strong libations and a menu that reflects a less trendy (and less calorie-anxious) dining era: e.g., the French dip, the Omaha sandwich. But the pictures haunt the atmosphere, bespeaking a place that was more than good enough for those who came before us and-according to the readers-is still excellent.
Finalists- Restaurant more than 25 Years Old: Joe's Cafe; Neighborhood Bar: Elsie's
Carpinteria Restaurant
The Palms 701 Linden Ave., Carpinteria, 684-3811
"Of course we're excited we won," said owner/manager Bill Bennet. "We've been working very hard to keep this place exactly the same as it always was, so it's nice that people appreciate it," he laughed. The grill-your-own-steak-and-seafood place has great meals that run between $9.95 to about $15, so the value has stayed constant. "It's been in our family for 55 years now," Bennet said, "and I just think in that world of change out there, people appreciate something they can keep coming back to."
Finalist- Zookers Cafe
Isla Vista Restaurant
Burrito
Freebirds World Burrito 879 Embarcadero del Norte, Isla Vista, 968-0123
One of the few constants in the ever-changing I.V. marketplace of food ideas, Freebirds is also open way late for students coming back to earth after prolonged cramming sessions. Founder/owner Mark Orfalea is well pleased by the votes, though humbled, too. "I guess what you're saying is that we were voted best burrito. It's very flattering. I don't think we deserve it, but I'm very happy that we got it," he said.
Finalists- Isla Vista Restaurant: Silver Greens Burrito: Super Cuca's Taqueria
Late-Night Eats
In-N-Out Burger 4865 Calle Real, Goleta, (800) 786-1000
Witching-hour hamburger runs are maybe not the most important meal of the day, but probably are the most keenly appreciated. In-N-Out can be a scene, particularly if you are among the crowd whose driver's license ink is barely dry. But it's also a clean, polite environment easily accessed and (for a place with such a gimmicky name) surprisingly accommodating to off-the-menu requests. Cook it animal style, please, with well-done fries, and any time before 1 a.m. would be delicious.
Finalist- Edomasa
Hot Dog
Costco 7095 Marketplace Dr., Goleta, 685-3199
Your basic hot dog is a humble creature. Whether constructed of turkey, pork, or even tofu, it requires a certain minimum of cured deliciousness, a firm resilience to bite, and an internal juiciness. Less controlled and it's merely a sausage; the rest is all condiment layer. The Costco dog was taking second place for a few years in the wake of newer, fancier wieneries. But here it is again, restored by the readers in all its mundane glory. A Hebrew National steamed and served on a fluffy fresh bun with your choice of smears. The simple pleasures at a price even those with a modest bank account can afford.
Finalist- Mad Dogs
Burger
Habit
5735 Hollister Ave., Goleta, 964-0366; 216 S. Milpas St., 962-7472; 628 State St., 892-5400
Even when it first began some 40 years ago, the Habit seemed something like a throwback-a little burger shack that promised quality at affordable prices appearing in the age when the big chains were digging into American consciousness. It's changed some-and become a bit of a chain itself with more than 400 stands-but the Habit, with its charbroiled burgers on a thin bun with onions, pickles, and a mayo sauce, is the first place most Santa Barbarans will send friendly strangers and polite tourists seeking the traditional patty-shaped foodstuffs of indigenous Barbarians.
Finalist- In-N-Out Burger
Pizza
Pizza Delivery
Rusty's Pizza Parlor Eight locations, 564-1111
Like Kinko's, Rusty's is a chain business that began in the unlikely, super-turbulent time/space nexus called Isla Vista, 1969. There are now eight area locations, two of which happen to be rare examples of vernacular architecture in this Mission revival forced-march town-an authentic pub on Carrillo Street and a faux lighthouse on Cabrillo Boulevard near the pier. This place has consistently served piping hot pies, with a good variety of toppings (from anchovies to zucchini), and it's also fast and reliable from store to door.
Finalists- Pizza: Giovanni's Pizza; Pizza Delivery: Pizza Mizza
Tapas Bar
Milk & Honey 30 W. Anapamu St., 275-4232
It's only been a year since Alvaro Rojas-who also opened Alcazar Tapas Bar and Chilango's-took possession of the little store front on Anapamu Street across from what is now the Hungry Cat. Between the two places, the neighborhood is suddenly the trendiest in town right now. But Rojas thinks it's a lot more emotion than location: "We put a lot of love into what we do. And we just make sure the folks in this town stay happy," he said. The restaurant isn't even listed in the phonebook, because it's meant to be for locals, Rojas said. "I've been in this town for 18 years and I love living here."
Finalist- Alcazar Tapas Bar
Breakfast
Cajun Kitchen Five locations
More than two decades ago, a little restaurant on De la Vina Street started attracting long lines of hungry customers every weekend. Now there are five of these eateries in the county, each with lines of their own. It's a simple concept: delicious American breakfasts that can be expanded into the world of Creole and Cajun flavor. Want hash browns or beans and rice? This is the place where you could have both at the same time.
Finalist- Summerland Beach Cafe
Sunday Brunch Buffet
Four Seasons Biltmore Hotel 1260 Channel Dr., 969-2261
Funny thing is, according to the Biltmore's staff, there hasn't been a buffet other than their notorious Sunday brunch in just over a year. So either the communal memory is that strong, or the people who voted meant that the brunch buffet was also The Buffet in our glorious town. "Our secret throughout the years," said Gena Downey, the new director of public relations at the town's almost-legendary hotel, "is hands-down our staff. They're remarkable, and this award means everything to them. Thanks, Santa Barbara."
Finalists- Sunday Brunch: El Paseo Restaurant; Buffet: Flavor of India
Salad Bar
Savoy Cafe & Deli 24 W. Figueroa St., 966-2139
Originally (and still officially) called the Savoy Truffle after a Beatles's song, the proprietors prefer a simpler name (just Savoy, please) to discourage the supposition that this restaurant only serves chocolate confections (which it does serve also, but that's another story). Open for b, l, & d, the place has become famed for its big grazing salad bar for lunch. "We have an incredibly fresh variety," said manager Corrie Ward. "Everything put out [is] new every day and a great variety, too. Where else can you get wild salmon, tofu, and roast beef?" Where else indeed, and Ward appreciates the fact that the town appreciates them. "It's awesome that we won," she said.
Finalist- Lazy Acres Market
Chinese Restaurant
Take-Out Chinese
China Pavilion 1202 Chapala St., 560-6028; 1070 Coast Village Rd., Montecito, 565-9380
This is epicurean Chinese food: Peter Chen cooks dishes that sparkle with possibilities, like Peking pork and chicken cooked in clay pots with real chestnuts. His Shanghai dumplings compare favorably with the soup dumplings found in Manhattan's Chinatown. And you can go off menu with a Chinese menu printed in English that Chen encourages all kinds of people to love. Not that you'll have a problem; from the humble scallion pancakes to soups made from intoxicating innards of fish, China Pavilion represents the art of good Chinese food.
Finalists- Chinese Restaurant: Mandarin Palace; Take-Out Chinese: Panda Express
French Restaurant
Mimosa Restaurant 2700 De la Vina St., 682-2272
"We give a lot of the credit for our success to our loyal customers," said Mimosa chef and owner Derrick Melton. "We figure about 85 percent of our business is return customers. Some people come in three times a week and others three times a year. There's a whole group of people who have a romantic history here. They come back each year for anniversaries, say. But I also think there are only a handful of fine dining places in town anymore, and Mimosa is one of them."
Finalist- bouchon
Italian Restaurant
Ca' Dario 37 E. Victoria St., 884-9419
"I'm definitely excited that we won," said manager Marissa Habich. "I think the main reason we've been so successful for the last 10 years is our chef [is] Italian, so we can make food that's authentically Italian," she said, referring to chef and owner Dario Furlati. "But the other reason is the whole restaurant works as a team, so everybody gets attention when they come in here."
Finalist- Pascucci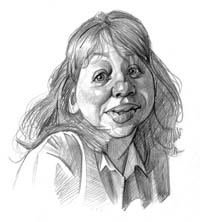 Joe Bluhm