This weekend, with solar-powered pomp and eco-minded circumstance, Santa Barbarians of all ages will once again celebrate Earth Day, a holiday as ingrained in our city's DNA as red-tiled roofs, Fiesta, and mountain-flanked views of the Pacific. It's been 39 years since Union Oil's Platform A spewed more than one million gallons of crude oil into the Santa Barbara Channel, the historical hemorrhage that prompted a powerful grassroots upwelling of save-the-Earth consciousness, inspired the creation of Earth Day, and is widely credited for kick-starting the modern environmental movement. In the decades since, our community has worn this catastrophe like a red badge of courage, famously fighting against development, fundraising millions for open space, taking on Earth-damning agendas no matter how slim the odds of success, and struggling relentlessly to keep our creeks, rivers, oceans, and forests pollution-free.
But hiding among the decades of victories and vigilance, a small energy company-which bought its way into the county in 1999 by snatching up half-dead, run-down oil and gas leases-has been quietly earning a reputation as California's number-one inland oil polluter with little to no fanfare from the media, environmentalists, or county officials. Despite racking up more than 200 documented spills that leaked at least 500,000 gallons of oil, violating county air quality standards more than 300 times with releases of potentially deadly natural gases, and provoking a visit from the county's hazmat teams 400 times in fewer than nine years-not to mention being successfully prosecuted by the federal government for violating the Safe Drinking Water Act-it wasn't until four months ago, after a publicly visible spill just south of Santa Maria, that anybody in Santa Barbara County wanted to give Greka Oil and Gas Corporation the attention its track record demanded.
Now, with its checkered past and financially lucrative connections to former and current county supervisors laid bare, all eyes-including the national media-are on Greka. But even as everyone works to make sure this type of chronic polluting doesn't happen again, one can't help but wonder, in a community that so rightly and righteously hangs its hat on a celebrated environmental legacy, what took us so long to wake up?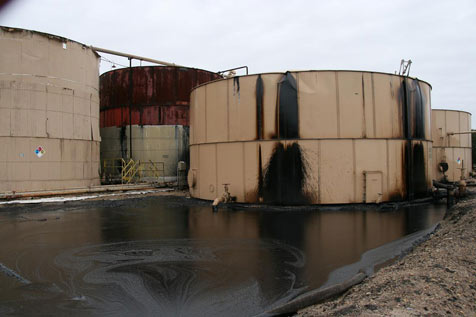 S.B. County Fire Department