Hours after The Independent hits newsstands Thursday, August 28, the Democratic Party will officially have a nominee: Illinois Senator Barack Obama.
While New York Senator Hillary Clinton doubtlessly would've preferred it were her, she didn't take long Tuesday night to share with the 20,000 people in the Pepsi Center and millions of others around the country where she stood on November's election: "No way. No how. No McCain," she said to a standing ovation from a crowd of people with white "Hillary" signs raised above their heads. "Barack Obama is my candidate. And he must be our president."
Clinton's speech rocked the Pepsi Center, a sure sign of exciting things to come in Denver, the host city for the 2008 Democratic National Convention. Obama's speech, on Thursday in front of 75,000 at the Denver Broncos' Invesco Field, is set to be before the largest audience at a national convention since John F. Kennedy addressed 60,000 in Los Angeles in 1960. Clinton, whose 1,896 delegates couldn't match Obama's 2,201 delegates, encouraged her supporters to join in her support of Obama. "We don't need four more years of the last eight years," she said.
Both Obama and Clinton made visits to Santa Barbara during the primary, with Obama speaking in front of several thousand at City College, and Clinton speaking to several hundred at UCSB. In Denver, Obama's wife, Michelle, gave her speech on Monday, while Clinton's husband, former president Bill Clinton, gave his on Wednesday. Santa Barbara's own Representative Lois Capps has close connections to both Clinton and Obama-the Clintons were ardent supporters of her late husband Walter Capps in his quest for the congressional seat she now holds, while her daughter Laura is married to Bill Burton, the national press secretary for Obama's campaign.
Capps said she thought that the convention had exceeded expectations in terms of Democrats coming together, especially considering the fierceness of the primary. Demonstrating that unity on a grand scale, Clinton's address made it clear that she wants her supporters to throw their weight behind Obama and only Obama. "We have to get going by electing Barack Obama as the next president," Clinton said.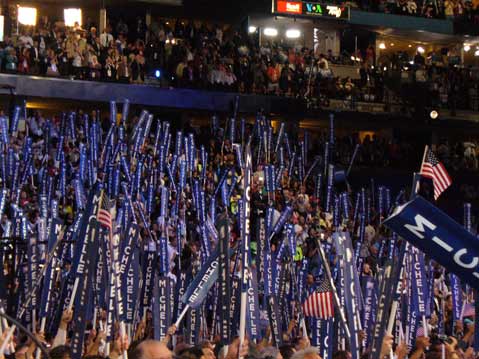 By Chris Meagher