(Above: Falafel sellers on East Jerusalem sidewalk.)
The conflict between Israelis and Palestinians has raged since the state of Israel was founded in 1948. While news from that Middle Eastern region seems distant from the daily lives of those of us in California, one Santa Barbara man recently visited both Israel and Palestine and returned with a newfound perspective.
A Texas native, Frank Williams has lived in Santa Barbara for fifteen years, and has been an avid community volunteer since his retirement. He enjoys visiting Cottage Hospital with his dog, for example, providing pet therapy to inpatients. These visits have proved particularly popular in the pediatric ward. This willingness to reach out to others led Williams to travel to Israel and Palestine with a program sponsored by Interfaith Peace-Builders, which aims to familiarize Americans with the concerns and hopes of people living with the ongoing strife between Israel and Palestine. (The Washington D.C.-based program began in 2000, as an offshoot of the Fellowship of Reconciliation, which itself began in Germany in an effort to stymie the outbreak of World War I.) Traveling with a diverse group of Americans March 30 to April 12, Williams experienced both perspectives, from a rabbi in Hebron to a Palestinian man who founded a bi-partisan group called Combatants for Peace.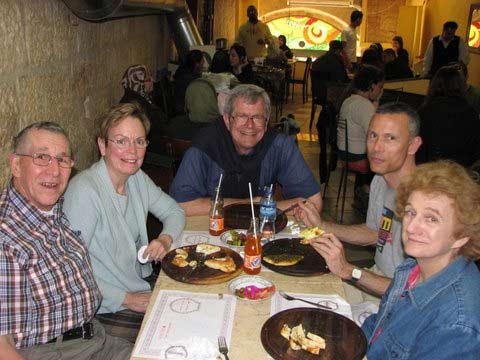 Frank Williams