A one-man gun show and an ensuing three-hour standoff on the La Cumbre Road Highway 101 overpass on Monday morning was resolved peacefully but still managed to halt the Santa Barbara rush hour.
According to Santa Barbara Police Sgt. Lorenzo Duarte, authorities received calls just after 7 a.m. indicating a fatigue-clad man was acting suspiciously on the overpass. An officer arrived at the scene and found the man holding a revolver-later found to be unloaded-and waving an American flag while shouting about conditions faced by war veterans upon returning home. Immediately traffic on La Cumbre and Highway 101 was stopped in both directions.
Northbound 101 drivers were routed off at Las Positas Road, while southbound drivers were routed off at the State Street/Highway 154 exit. The California Highway Patrol reported traffic was reportedly backed up three miles in each direction.
SWAT and police negotiation teams arrived at the scene and spoke with the man, later identified as Edward Van Tassel. His behavior throughout the incident was erratic; he waved his hands and the flag and gestured emphatically toward officers located several feet away. Using a bullhorn, authorities persuaded the suspect to put his gun down. In exchange, the man demanded a sign supporting Barack Obama and Joe Biden in tomorrow's election. Shortly after, a bomb squad robot delivered the sign, and the man appeared to take his shoelaces off to hang the sign on the chain-link fence of the overpass.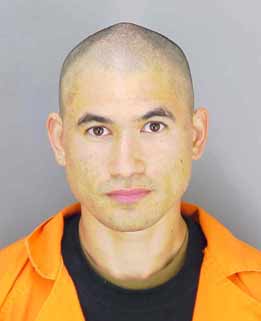 Santa Barbara Police Department