Community leaders for the City of Goleta and Santa Barbara County met on Tuesday evening to present further information to citizens concerned about the specter of floods and mudslides. Such disasters are likely to result from upcoming rains on the Forest Service and county lands that were denuded by the Gap Fire this summer.
About 100 people showed up at the event held at Goleta Valley Junior High School, and it included a question-and-answer session at the end. Officials were optimistic about their efforts to mitigate fire damage and prepare for floods and debris flows, and the main thrust of the meeting was preparedness and planning for the worst. "Don't wait until the first flash across the bottom of your TV screen saying there's a flash flood coming to get ready. You should be getting ready now," said Tom Fayram, Director of the County's Flood Control District.
Fayram explained that the Flood Control District, Public Works, the Fire Department, and other agencies have been working on a mitigation plan that includes clearing creeks of brush and debris, clearing sediment basins (particularly the main one at Santa Barbara Airport), installing debris racks (steel grates that catch larger debris and which will be cleaned out regularly), and aerial hydromulching, which began this week.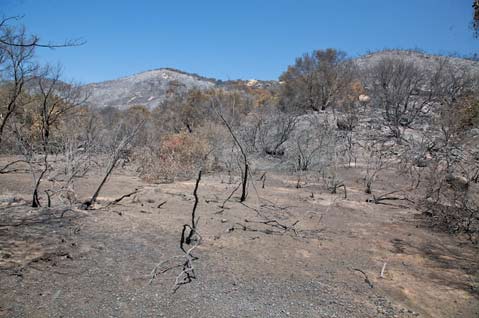 By Ray Ford