In the picturesque riverside town of San Antonio de Areco, Argentina, a leathery man leans against a wire fence, overlooking a horse-riding ring the size of several football fields. His chambergo, a flattish wide-brimmed sombrero, is tied under his neck with a leather cord, nearly hiding his blue eyes from view. He wears a bushy mustache and a neckerchief, and tucks his fac³n, a long silver-handled knife, into his silver-studded rastra belt, which holds the blade flat against the small of his back. Covering his legs are grey bombachas, baggy around the thighs and tapered at the ankles to fit into his boots. This afternoon, he's already shed those boots in favor of a snug pair of country slippers called alpargatas. He's most content to sip yerba mate, the hot bitter herbal drink used to fend off hunger and fatigue, and strum his guitar, as the fictional hero Mart-n Fierro would have done.
The man is a gaucho, and-like his compatriots spread across the pampas, or grasslands, of South America, from southern Brazil to the remotest corner of Patagonia-he reflects the dusty romantic glow of his American cowboy cousins. When Butch Cassidy and the Sundance Kid fled the United States more than 100 years ago to settle in southern Argentina, what they found was an almost prehistoric version of the cowboy, men who resolved disputes not with a gun, but with a knife, who valued independence almost as much as style, and whose horse-riding skills could rival the best of the Wild West.
For more than 400 years, these men have ridden the empty countryside. Initially, the gaucho was regarded as nothing but a mounted savage who hunted free-roaming cattle. As his reputation as an indomitable free spirit with a fiery temper grew, landowners and the government increasingly found it necessary to domesticate the gaucho by keeping him occupied with paid work on vast ranches. Today, the gauchos as Butch and Sundance found them are practically extinct. But much like American cowboys, the gaucho legend continues to grow even as their sheer numbers dwindle.
One of the quirkiest parts of the gaucho legacy lives in our corner of California, where students, alumni, and sports teams from the University of California at Santa Barbara call themselves The Gauchos. But even though UCSB took Gauchos as its nickname more than 70 years ago - and thousands of alumni are expected to return this weekend to celebrate the 3rd annual All Gaucho Reunion - few in Santa Barbara know just what a gaucho is, or why they should be proud to wear that name. And fewer still know how the gaucho name came to be immortalized here.
It's time to set the record straight. This is the true story of the gaucho, from Argentine cowboy to UCSB mascot.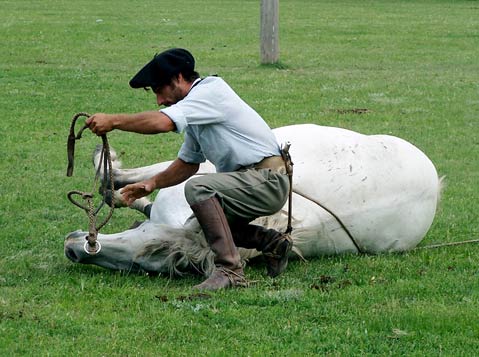 Clare Nisbet