In the past 13 months, the foothills above Santa Barbara and Montecito have seen two ferocious fires tear through their countryside. Ravaging storied neighborhoods such as Mountain Drive, Coyote Road, and San Roque Canyon, the Tea and Jesusita fires carved out a path of destruction that left nearly 300 houses completely destroyed, and many more badly damaged. Today, hundreds of families are struggling along the harsh road of rebuilding, few armed with little more than the hope that their homeÂ-owners insurance policy will be enough to get them home.
Certainly there were even more unfortunate homeowners and renters who had no insurance-their fates a world of tragic hardship-but this is a story about the majority of the Tea and Jesusita victims; people who crossed their t's and dotted their i's on homeowners insurance policies from established companies, including Allstate, Liberty Mutual, State Farm, and California's ubiquitous FAIR (Fair Access to Insurance Requirements) Plan program. They paid their premiums faithfully, in some cases for more than 40 years, and considered themselves protected should the worst-case scenario ever arrive. Now, standing in the ashes of their lives, they are realizing just how wrong they were. This is the story of their hard lessons learned.
Take a ride through the scorched hillsides of Mountain Drive today, and you'll think you are witnessing a resurrection. Vibrant green chaparral now grow in the ashes, and signs from architectural firms, building contractors, and landscaping firms dot the scenery. All day long, you hear the sound of power tools and backhoes. But don't let all this activity fool you; the road to recovery has been anything but easy, and, for most, it is anything but over. "You pay your bills and trust your policy is enough, but unfortunately, it takes a disaster to educate yourself about what your needs really are," said Linda Harlin, who has lived on Coyote Road for 23 years. Despite a hard, unrelenting effort, her family is still in the earliest stage of rebuilding their home, a year after it was destroyed in the Tea Fire.
The Eastern Flank
"Basically, people are facing one of two problems," explained Amy Bach, executive director of United Policyholders, a statewide advocacy organization that helps disaster victims navigate the insurance gauntlet. "You are either underinsured, as in, even if you get paid your full coverage, it won't be enough," she said, "or, the insurance company is lowballing you : that is, they aren't offering you enough of your coverage." Since hitting the ground here in Santa Barbara immediately after the Tea Fire, her group has found plenty of both problems, particularly in the Mountain Drive area.
If ever there was a quintessential Mountain Drive home, it was the Neely clan's handmade masterpiece in the lower Hyde Tract. A whimsical adobe built by the late Bill Neely, one of the original homesteaders of Mountain Drive's artistic community, the house-which had survived the Coyote and Sycamore fires years ago-was burned to the ground in the Tea Fire. For decades, the Neely family bought insurance through the California FAIR Plan, a basic coverage program underwritten by an association of insurance companies specifically for properties in areas where most individual companies dared not tread. The Neelys, however, discovered that-despite updating their policy frequently to the maximum house value permitted under the FAIR Plan-they won't be getting enough money to cover the varied costs of rebuilding. "It has been a mixed bag of good and bad," said Bill's son, Chris Neely, with a weariness in his voice that suggested more of the latter. "As it ends up, we are underinsured." The problem the Neelys face is almost universal for victims of the Tea and Jesusita fires: The amount of money the insurance companies figured would be needed to rebuild a home is nowhere near the real cost. The common industry standard for most policies offers $100-$200 per square foot, which is, at best, half the amount of what it costs today to rebuild a home as it once was.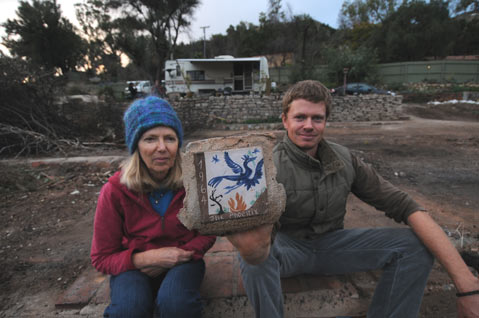 By Paul Wellman