The final phase of the COP15 officially got underway this evening at the Bella Center and, in our honest opinion here at Operation Copenhagen, if you are holding your breath waiting for a definitive climate change-fighting agreement, you better plan to pass out. With more than 130 heads of state starting to arrive, chief negotiators for industrialized nations put on a happy face today, publicly expressing optimism that a sweeping deal is still a possibility, but, in the trenches, the feeling amongst lower level negotiators, journalists, and the many non-government organizations involved in the process is decidedly different. That is to say, the fourth quarter just started, Planet Earth is down a couple touchdowns, and the other team has the ball.
Certainly anything is possible but, like the snowy and rainy weather here in Denmark's capital today, things sure aren't looking too bright. As the COP15 Executive Director Yvo de Boer put it this afternoon, "There is still an enormous amount of work to be done if this conference is to deliver what the people around the world want it to."
The omens were bad from the beginning this morning as Operation Copenhagen arrived to the conference. Lines snaked for as far as the eye could see, fences had been erected where previously freedom had been enjoyed, and tensions among conference-goers was running high. Pushing, shoving, and swearing in several languages were not uncommon as thousands tried to gain access to the Bella Center.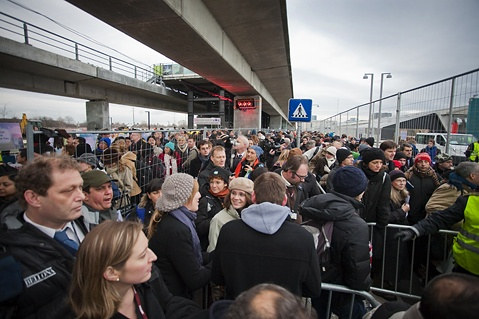 By Kodiak Greenwood