It's the golden hour on the Santa Barbara waterfront, with a warm, practically peaceful light sparkling into the early July evening. But across the street from East Beach inside Fess Parker's DoubleTree Hotel, it feels like a fist fight might break out.
There, a divergent and impressively complete cross-section of people who care about the Santa Barbara Channel are gathered in a conference room, clutching coffee mugs, talking among themselves, looking at large maps of the Southern California coastline, and filling out lengthy public comment forms. While the discourse is civil on the surface, the underlying tension is undeniable as sea urchin divers, commercial trawlers, lobstermen, biologists, elected officials, professional environmentalists, casual conservationists, and other assorted ocean-minded folk make their way through the state-sanctioned Marine Life Protection Act (MLPA) workshop.
More than a decade since being voted into reality by the California Legislature, the preservation-motivated, multi-phased MLPA process is fast coming to a head for those who live south of Point Conception. Aiming to create a patchwork of marine-protected areas (MPAs)-places where little to no fishing, be it recreational or commercial, is allowed-along the entire coast of California, the process is, depending on whom you ask, either a crucial power play in the name of preservation that will protect our underwater worlds for generations to come, or a brutal aquatic land grab that threatens to deliver a death blow to our state's already embattled fishing heritage.
But regardless of where you fall in this contentious spectrum of opinion, one thing is certain: By early 2010, if all goes as scheduled, the process carried out at the DoubleTree that July night finally will be complete, and fishing in the near-shore waters of the Southern California Bight-which extends from the westernmost edge of the Santa Barbara Channel to the Mexican border-will never be the same.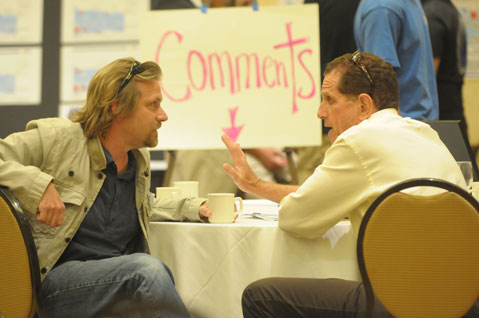 By Paul Wellman