It seemed clear enough to Eli Cordero-the Warrior mascot images displayed all over his high school campus were offensive and should be removed. They are caricatures of Native American people, he thought. Many incorporate feathers, which are considered sacred to his Chumash spiritual tradition. And overall, how could a race of people serve as a plaything for a publicly funded school?
But the issue of removing the Carpinteria High School images-murals, sculptures, tile art, letterhead logo-turned out to be anything but clear and simple. After Cordero proposed the change last spring, a "save the mascot" movement was launched to preserve what some people see as years of sports history and tradition. A faction of the community refused to accept the board's 3-2 vote to keep the Warrior name but get rid of the Indian-themed icons.
After a year of community tension, the Carpinteria mascot controversy may be settled on Tuesday, March 17, when school board trustees are scheduled to review recommendations of the Native American Imagery Committee, a group of people appointed by the board to evaluate each individual mural, artifact, and emblem. Based on the committee's findings, the images may be retained, removed, or altered.
Certain factors work against Cordero's proposal. For example, last November's election changed the makeup of the school board and Cordero's supporters believe the votes are there to rescind the prior decision. Also, the school district secured a legal opinion that states "continuing use of Native American imagery and the Warrior nickname does not violate any federal, state, or local law on its face."
Eli Cordero, now 16, understands better than anyone that his battle is all uphill. After months of delay and acrimony-he's received two death threats-Cordero is just as passionate as the day he presented his petition signed by 50 fellow students, as well as a stack of documents related to Indian mascot challenges nationwide.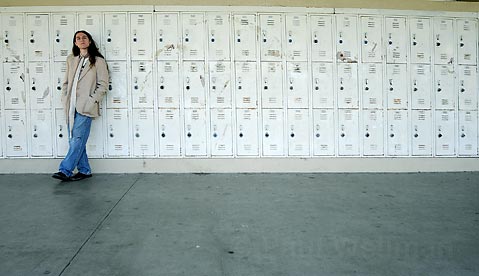 By Paul Wellman