I was the one who said I wanted to be in the middle of nowhere on New Year's Eve, I reminded myself as I zipped up my windproof jacket-layer number seven and I was still shivering. Our tent was pitched on a field of snow three feet deep, and Travis's Subaru Outback, splattered with red mud from the drive in, was parked a few yards away.
We'd come to explore the canyons of Escalante, Utah's Grand Staircase National Monument, and an unusually cold, wet winter had left the region's vermilion cliffs and valleys dusted with white. It had also left us the place to ourselves.
A two-day drive from the Central Coast of California, Escalante is located 200 miles northeast of St. George, between Capitol Reef and Zion National parks. The entire region is characterized by dramatic geological formations, from the unlikely rock bridges of Arches National Park to the grandeur of the Grand Canyon. Some are better known and more touristed than others, and Escalante, at least in late December, fit my wish for a peaceful wilderness getaway.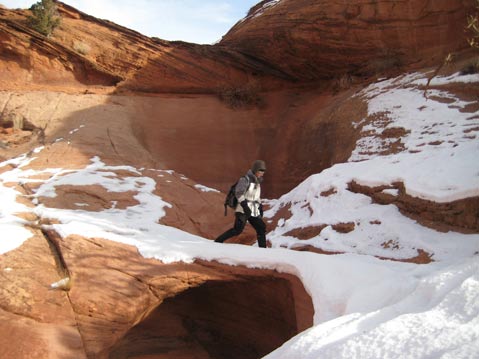 Elizabeth Schwyzer