Her First Fiesta: "My first goat taco," gasped 20-year-old New Yorker Ariel Shapiro, peering at a corn tortilla loaded with shredded meat.
"I've never eaten goat but I've wanted to for a long time. In New York it's the swanky new meat to eat." Ariel, who is a summer intern at The Independent, my wife, Sue, and I were tasting our way around El Mercado De la Guerra Wednesday, August 3.
Here we think it's a wild treat to taste chivo once at year at Fiesta, while to those hip Manhattanites it's just a trendy snack to get the evening going. But there was nothing jaded about Ariel's chivo experience. Raul Gil, at the Hispanic Chamber of Commerce booth, suggested that she slather on a spicy pico de gallo sauce that included nopales—tender shoots of cactus. She didn't hesitate.
"This goat is good," she told us, giving the thumbs-up sign. Not surprisingly, a splotch of hot sauce appeared on her notebook. (She's writing about Fiesta, too.) The goat tacos go for three for $7.
Along came 2nd District County Supervisor Janet Wolf and after a little urging on my part, she had to try a goat taco, too—and liked it.
"I've never had a tamale," Ariel confessed. (She goes to school at Madison, Wisconsin.) So we made our way through the growing crowd to the Holy Cross booth; all the food stands benefit one nonprofit or another. Now I've had my problems with Fiesta tamales. I've found good and bad—yes, there is such a thing as a bad tamale. It's dry and there's not enough meat or other filling to speak of. They're an insult to this wonderful Mexican dish.
So I was a bit hesitant to allow Ariel to try one. But we ordered two, pork-filled with red sauce. She delicately unpeeled the husk and spooned a hunk into her mouth.
"I wasn't sure about the corn husk but I liked it," she told me. "It's very good." I tried one and it was excellent, moist and juicy. I gave it an A.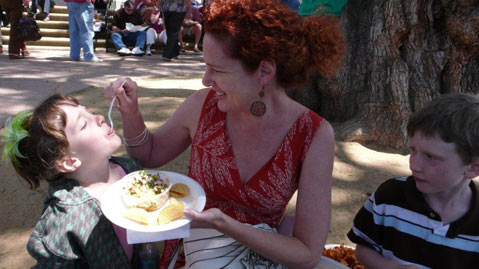 By Sue De Lapa