At every SBIFF, there comes a point when you hit the wall. Underslept, overserved, subsisting on Craisinets, Chopin vodka, and passed appetizers, you crave three things: couch, pajamas, vegetables. At which point, if you are to make it through, there is only one thing left to do: Put on a dress and suck it up.
Were I to succumb to the sofa's siren song, I'd miss surprises like Wednesday's world premiere of Chris and Emmett Malloy's 180 South, the kind of travel porn that makes you want to cash out and get lost in the world … or in Café Buenos Aires and a haze of pisco sours. I opted for the latter, finding the after-party jammed, the peeps loose. Things took an epic turn when I got wind of a Julia Roberts sighting. Swept into the crowd's current, I eventually was deposited in front of the very Pretty Woman. I introduced myself, asked if I could take her picture, and was denied. Then she complimented my shoes, and introduced me to her husband, Danny Moder, DP on the film. I thanked her (rather profusely) for the delightful rejection, and then the wheels officially came off the bus.
Photo Gallery
SBIFF Peeps, Week Two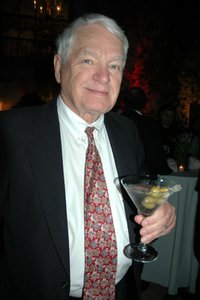 Speaking of pretty women, anyone who says redheads shouldn't wear red was proven wrong on Thursday evening by Julianne Moore, who wowed on the carpet and on the stage. Even when moderator Pete Hammond asked what kind of research she did for her role in Boogie Nights ("Did you watch a lot of porn?"), she remained witty, cool, unfazed. To the final question of the night—"What are you gonna do next?"—she replied, "I don't know, man; I gotta find a job!"
Hard at work at mine, I infiltrated the filmmakers' lounge at Joe's Café on Friday afternoon, finding the backroom packed, the mingling at a fever pitch, the bar reminiscent of a rugby scrum. But I was distracted by a man toting a large, shiny object: "Is that a gigantic crystal in your pocket, or are you just happy to see me?" Turns out, he built crystal-infused chairs for the tributes, to absorb anxiety and encourage clear communication onstage. I left before asking if there's a model that replaces vibes of hung-over exhaustion with creative genius, turned, and caught Michael Jackson: The Untold Story of Neverland filmmaker Larry Nimmer moonwalking through the crowd. All before the sun went down. Add the Vanguards and the Business First Bank after-party, and it was yet another late, star-studded stew of a night.
Another day, another soirée—and Saturday's was large: Roger rocked the Q&A with Colin Firth, who said, when he learned Tom Ford wanted him for A Single Man, thought, "This may be my last chance to look good." But the self-deprecation act didn't fly; you could practically hear the ladies swooning. Pulling up to Classic Party Rentals for the post-party, phones began ringing: Shannon to the VIP area, stat! The next couple minutes were frenzied, as though we were in possession of an organ, the transplant recipient just beyond the velvet rope. Whisked in through the backdoor, we found Misters Durling and Firth ready to mug for my lens. After some schmoozing, we hit the main party, where the peeps were working the dance floor, the Jaqua spa, and the bars.
Before I knew it, closing night was bearing down, as was the premiere of Middle Men, a dark, funny, true tale of the wild west days of the Interwebs starring Luke Wilson and scene-stealer Giovanni Ribisi, both of whom—as well as much of the rest of the cast and crew—were in attendance. The flick was great; the after-party was better.
And, with another SBIFF in the books, there are only three things left to do: couch, pajamas, vegetables.