Article Tools

Print friendly

E-mail story

Tip Us Off
Share Article
Here, rescue dogs talk about what their lives were like before their present people: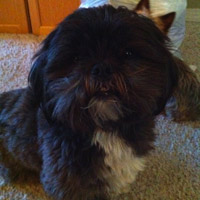 Chaplin (Lhasa Apso mix): When I was little, I slipped in the tub where the people bathed me, and I couldn't breathe. I had a little lady that always was cutting my hair. She liked me a lot. She took really good care of me. I ate human food, no dog food. My new person is right—that family did call me Chupacabra. The boys in the family called me that. One day, I got stolen out of the car window. My captors brought me to the shelter because I kept getting so sick with throw-up and diarrhea.
I love my family now. They are not obsessed with being clean. They have so much fun with me. I love my little friend I have. It is like everyday something new and exciting happens. I am not frightened of being stolen again because they make sure I am safe.