Years of protesting, writing op-eds, showing up to public meetings on stilts, walking along Cold Spring Canyon Bridge, trumpet in hand, and other attention-getting antics by retired UCSB professor Marc McGinnes, fueled by his opposition to a suicide barrier on the bridge, often fell upon deaf ears, especially those of elected officials.
Tuesday, finally, someone listened — and that someone was a judge.
Judge Thomas Anderle halted construction of the suicide barrier being built by Caltrans, saying the Environmental Impact Report (EIR) prepared by Caltrans didn't comply with the California Environmental Quality Act (CEQA).
While the move likely doesn't mean the end of the project, it is a small victory for McGinnes and his Friends of the Cold Spring Canyon Bridge group after years of being shot down by both local and state officials, who have worked hard and forcefully to get this project through. The judge — while clarifying that he was only ruling on Caltrans's failure to properly follow CEQA protocol, not whether the barrier should or should not be installed, or if it will be down the line — indicated Caltrans had failed to follow procedural requirements by not including mitigation measures to reduce impacts of the bridge until after the public was able to comment on the measures; the measures weren't introduced until the final EIR stage rather than the draft EIR stage. It was a basic point of environmental law, but still a point missed by Caltrans and other officials, which means Caltrans has to step back a few squares.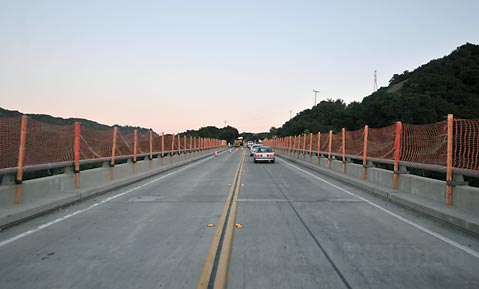 By Paul Wellman