I can't tell you the name of the road (it's a secret), but I can say that it curves up into the Santa Ynez Mountains. Also, that Billy Smith drives a car like he skateboards: leaned back in a longboard stance and turning the wheel with a skateboarder's delayed maneuver. But he's so absurdly affable that there's never any disquiet. Cresting the mountain, he talks about how matching air resistance with gravity and terminal speed changed the lives of him, his brother, and his friends.
The occasion for this road trip is a demo of Sporting-Sails, a flying squirrel-style parachute that Billy patented with his brother, Nick. A sail is deployed to decrease momentum, culling the wind to control the ride and relieving skaters of the necessity to drag their hands and feet. It attaches to the hands and ankles and has wide stripes of red and white — because, as Billy points out, no colors are more beautiful against the natural hues of California.
The point is descent. Add in a body-length sail, and how and what to descend changes. The responsiveness from your skateboard deck increases, and so does your ability to steady yourself. You can savor steeper gradients with a sail, carving down the hill rather than straight bombing it.
Manipulating the sail requires focus and control, but it doesn't get in the way of the boarder's raison d'être: rapture — the feeling of blissful expansion, like you're absorbing the world all at once, the same kind of unbounded sensation that makes humans want to fly. This levity suspends not so much the body as it does the mind, releasing the inner ear from the pragmatics of gravity. In surfing, this is a momentary rush of ecstasy, but downhill skateboarding can extend it for 30-minutes. Instead of the flotsam and foam of white water rushing underneath, it's the friction and grain of the road — a barrel that never closes out.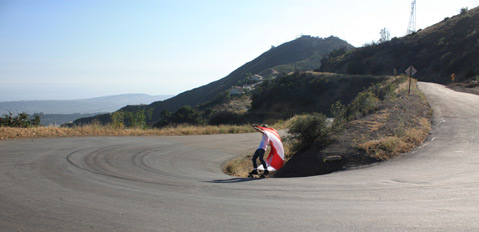 By Courtesy Photo