As dusk descended, I was walking happily along the trail from Cottam Camp to Camuesa Road, to meet up with a friend who was already out there with everything we needed. I was taking advantage of the evening hours of a hot summer day to revel in the profoundly slow beauty of the Los Padres National Forest.
I'd set out at 6:15 p.m., and figured I would make it to Camuesa around nightfall. The sun was scheduled to set at 8:15 p.m., and I had laughingly instructed my friend not to start "looking for my half-eaten remains" until 10, so I wasn't sweating the deadline. This wasn't the trail I'd told my friend I was taking, up Blue Canyon. I'd lost that early on as it seemed to lead directly through tangles of poison oak and down into foot-deep creek pools with no obvious place where it continued after that. Instead, I'd opted to follow the arrow pointing downstream, along a well-marked path that I knew would lead to a Santa Ynez River crossing at Cottam Camp. I'd been that far before, and from there, I'd heard, it was easy to reach Camuesa Road near Pendola.
After Cottam, the path didn't stay incredibly well-marked, but I'd found it again each time it crossed a stream or spread onto open chaparral. I was feeling pretty smug when, with one last, slim metal signpost — painted white and reading simply "TRAIL" — it abruptly dumped me out onto a wide boggy section of what I guessed was probably the bed of the Santa Ynez River. Though I wasn't positive. Silly goose, not to have stuck Ray Ford's beautiful, easy-to-use, topographic Front Country Trail Map into my backpack.
I found no complementary trail sign on the opposite bank, which was about 50 brush-and-ravine filled yards away. I did find a big fat rattler. We both ran screaming away from each other.
I scrambled back into the riverbed and proceeded upstream until I could find no way forward except through steep-sided, thigh-deep water passages. That couldn't possibly be the right way to go. By now, it was dark enough that I had to turn on my little flashlight.
The last cell phone service I'd had was at the trailhead of the Blue Canyon connector, which was near Romero Saddle, where I'd parked. My greatest fear, when I realized that I would not arrive at my destination by 10 p.m., was that Santa Barbara County Search & Rescue would be called. Heroic volunteers would be rousted from their beds, I would be airlifted out, and a press release would announce my waste of taxpayer money and that of generous donors. I would be humiliated and stripped of my Adventure Pass (if I'd had one).
What To Do When Lost
1) Stop and think about the last point at which you knew where you were, and go back to it if you know you can.
2) If they are looking for you from the air, stay in the open and lie flat on the ground; you'll be easier to spot than if you are vertical. It helps if you are wearing bright colors.
3) Signal the searchers with a mirror or light. Even a BIC lighter is better than nothing.
4) If someone has not returned from a wilderness outing and you suspect they may be injured or lost, it's generally a good idea to call Search & Rescue sooner rather than later. The longer someone is out there, the bigger the search area gets.
I decided to trek back to my car, hopeful that I could make it by midnight. I lost the trail. I whined for help. I found the trail again, I thought, and then found myself magically transported back to the riverbed, following the footprints I'd left a half-hour earlier. It was like something out of The Blair Witch Project. Shocked as I was at first to be headed in that direction, whatever it was, I felt lucky to be on now-familiar ground. After mistakenly approaching some brilliant yucca blooms, I finally located my now-beloved "TRAIL" sign, with its luminescent white paint, and sat down to wait for morning.
I resolved to not panic, imagining a little plastic bracelet around my wrist bearing the legend WWRHD: What Would a Responsible Hiker Do? But then I started signaling passing jets with my flashlight, using the old Morse Code distress signal: short-short-short, long-long-long, short-short-short. If Search & Rescue was looking for me, they might as well know where I was. I finally decided that this was not a responsible thing to do, because it was apparently futile and it was using up precious battery charge. I had not brought extra batteries. And anyway, this was not an emergency.
Still, it was with great relief that I finally saw two men coming down a trail carrying torch lights. I called out to them and shined my flashlight on treetops for several minutes until I realized they were merely stars twinkling on the horizon. I was very alone.
I knew I had to stay awake in case people were looking for me. I took everything out of my backpack so I could use it as a mat, and placed a bottle of wine near my right hand, so I could use it as a weapon. I turned off my cell phone to save the charge. I had plenty of water, and four nectarines, which I placed several yards away so that a bear would not have to go through me to get to them.
I located the North Star, and kept an eye out for the Search & Rescue planes I hoped would not come. I thought of myself as a shepherd, made up new constellations, and sang "A Horse with No Name," until I stopped because I thought I sounded like a bird in distress and might attract a cougar, but then said to heck with it and resumed. I lay down a few times but inevitably leapt up to shout at bushes from which the sounds of human-eating predators were emanating.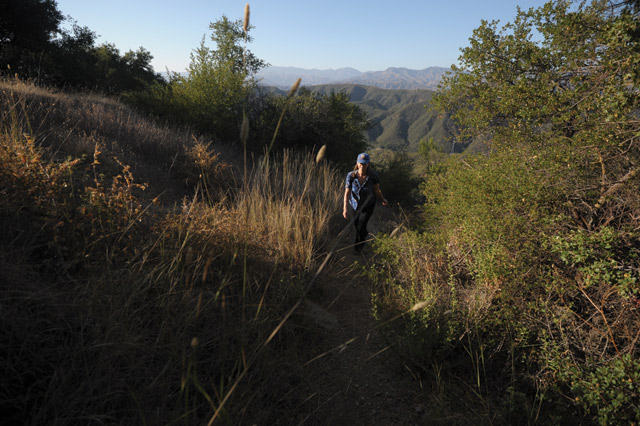 By Paul Wellman