Just a few blocks east of State Street, nestled eloquently on the ocean side of Victoria Street, is a development that may just be the greenest urban residence ever built within the limits of the law.
The dream of longtime Santa Barbara-based builder Dennis Allen, Victoria Garden Mews is a four-unit, multifamily project that required heavily remodeling the circa-1887 home in front while simultaneously building three three-story condominium units in the back. When completed late last year, the complex earned a preliminary Platinum certification from the U.S. Green Building Council's LEED (Leadership in Energy and Environmental Design) for Homes program, boasting a score of 118 out of a 136 max. It is, to date, the highest ranking for any residential project ever.
"The funny thing is, we weren't really going for [the LEED ranking] at all," said Mews project manager Zac Shore of Allen Associates. "We were just trying to do something as sustainable and innovative as possible, and it wasn't until we got going that we decided to see what it would be on the LEED scale."
Harvesting the sun and the rain to the fullest, the buildings and surrounding 11,250-square-foot lot cut a subtle yet beautiful and nature-stuffed profile in the heart of Santa Barbara's historic district, thanks largely to architects Dennis Thompson and Susette Naylor and landscape architect Margie Grace. While the house and condos feature eco-minded bells and whistles straight out of the future, the actual cost of the whole project weighed in at a surprisingly affordable $415-$425 per square foot, a number that becomes all the more attractive when you consider the expenses saved in the years to come: heating, electricity, and water bills.
"Really, the main thing in all of this," explained Shore, "is to show the public that this sort of stuff is not only attainable but also affordable." What follows is a peeled-back look at some of the unique design features that help make Victoria Garden Mews tread so lightly on this planet that we all call home.
Landscape Love
Virtually every open nook and cranny of the 11,250-square-foot lot creates a flavor of sustainability that is both edible and beautiful thanks to landscape designer Margie Grace. More than 30 fruit trees sprinkle the property among drought-tolerant native plants, a raised-bed veggie garden, a buffalo-grass lawn, and a honey-flush beehive. Even better, the whole landscape is watered solely throughout the year by the 14,000-gallon rainwater-harvesting system stored in the basement of the three-unit condo. According to Shore, during this past spring's wet weather, the massive bladder filled up in only one storm. That's right: This Eden-esque natural setting got all the water it needs for the next year during one 24-hour dump.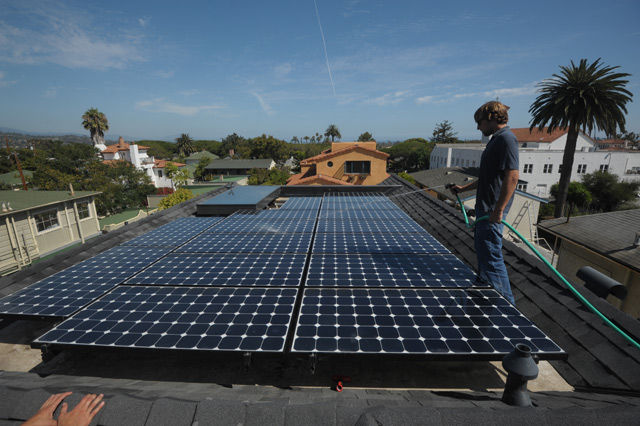 By Paul Wellman