There aren't too many places in the world where the casual morning conversation goes something like this: "Oh, that's just a crazy bulb from Peru. It was collected by the guy who named the species." A few steps and seconds later, the matter-of-fact delivery continues, "Yeah, it's very rare, from South Africa. It may or may not be extinct. There's probably not a breeding population."
But that's day-to-day life in the nursery of Lotusland, the Montecito estate whose longtime owner and Polish opera diva Ganna Walska turned the grounds into a botanic paradise of exotic plants before she died in 1984. Though open for tours since the mid 1990s, never before has Lotusland offered the public the chance to take home a piece of its legacy (aside from the tiny plants for sale in the gift shop). That will all change on Saturday, September 8, with the auction of nearly 100 specimens, all of them fascinatingly rare, and many with the most prominent provenance possible.
Much of what will be auctioned off ​— ​indeed, much of Lotusland as it is today ​— ​is the direct result of the influence of former garden manager Charles Glass and his business partner Bob Foster, who together ran Abbey Garden Nursery and Press. Walska hired Glass as her garden manager, a position he held for nearly a dozen years, making him the longest-serving supervisor of Lotusland.
"They had a lot of influence on the plant collections here," said Lotusland curator Virginia Hayes (also the author of The Santa Barbara Independent's gardening column), explaining that the duo would travel the world, particularly the semi-arid deserts of Central Mexico, in search of peculiar plants. Once Glass and Foster brought the plants back to California, they would produce numerous cuttings and seedlings, boosting the availability of these rare species before such collecting expeditions were banned by the CITES (Convention on International Trade in Endangered Species) agreement of 1973. "These guys were collectors," said Paul Mills, assistant curator, who also worked for Abbey Garden during the company's Carpinteria days, "but they were master propagators, too."
Because of their work, Lotusland remains a repository of fabulous flora, a place where endangered and even extinct-in-the-wild species are safe. The auction is just one way of disseminating more of these coveted specimens out into the world. "We like to call ourselves a living museum," said Hayes, to which Mills added, "Or a life raft for threatened species."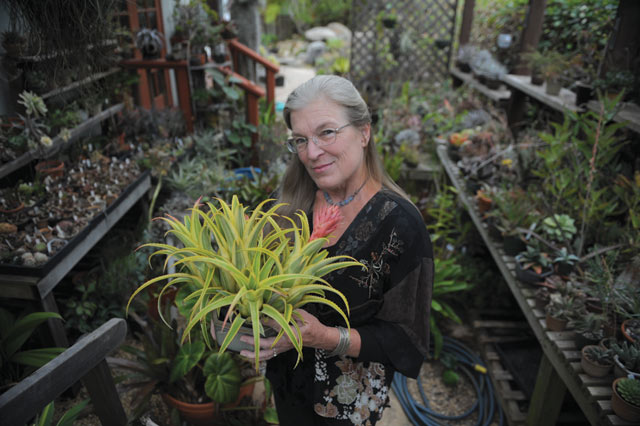 By Paul Wellman