Doctor Joseph Weber is hardcore. He screws teeth into skulls and parachutes off buildings and bridges and cliffs. He's also methodical, exacting. A dental-implant specialist with a bustling Bath Street practice and two surgical patents, the 44-year-old Santa Barbaran is part of an endangered species of BASE jumpers who innovated the fringe sport 20 years ago and survived hundreds of death-dealing vaults to watch it gain popularity and acceptance across the globe.
On September 16, Weber and 42 other experienced jumpers he hand-picked at the request of the Chinese government will throw themselves from the Aizhai Bridge in the Hunan Province, part of a media blitz to showcase the world's longest and tallest tunnel-to-tunnel bridge. Weber said the leap from the 1,150-foot-tall span, with an open valley below and no competing structures, will be a cakewalk compared to some of his other feats.
The former Green Beret jumped naked off the Eiffel Tower, wore an electrician's uniform to sneak past security guards at the Bank One Tower in Indianapolis, and broke his leg snowboarding off a 2,000-foot cliff in the Swiss Alps. He also set a world record jumping off Malaysia's Petronas Towers at the turn of the millennium, but might be best known in California for organizing the 1999 jump off El Capitan in Yosemite National Park, where 60-year-old Santa Barbara skydiver Jan Davis died during a publicity stunt. And though the China jump is a fairly routine challenge for a member of Team Body Bag ​— ​a name Weber and fellow limit-pushers adopted years ago when one of them was dying every time they jumped ​— ​this week's event marks a milestone for himself and his sport.
"To be here 20 years later with half my friends dead, and be invited by a government ​— ​the Chinese government, no less ​— ​to legally jump for such a major event, is huge," Weber said last month during an interview at his home above the Westside. "It's a culmination of a lot of things, remembering how the sport started and seeing how far it's come."
It's easy to fault Weber and his free-falling friends for being reckless, selfish, or simply bananas, but his response comes without hesitation. "I really believe mankind wouldn't be where it is today if people didn't push the limits of human capability," said the married father of a one-year-old. "If we didn't take risks, we would've never reached the top of Everest or walked on the moon. We need to step beyond our comfort zone to get somewhere."
Unfortunately, American authorities don't see it that way, so BASE jumpers are usually forced to push those limits everywhere else, allowing countries like China to reap the rewards of Weber's risks. He explained, "It's sad that the laws in this country often prevent people from exploring such things."
Berets to
BASE
When Weber was 5, he saw his father shot and killed in a Chicago bar. From there, he and his brother were on their own. "We were fed, and someone would take us to the hospital if we broke our arm, but there was never anyone, any support, around us," he said, remembering how the two built BMX ramps and once spent Christmas barefoot waterskiing on a near-frozen lake. He still doesn't subscribe to typical holiday traditions, instead using the weeks between Christmas and New Year to travel, recently exploring the Great Barrier Reef.
After high school ​— ​where he was a competitive diver and learned aerials like the back-layout double-tuck that is his signature BASE-jumping move ​— ​Weber joined the Army, drawn by the guarantee he'd go to airborne school. The brass spotted his grit during basic training and recruited him into Special Forces, making him the medic of an A-Team. During the ceremony where Weber got his Blood Wings ​— ​the pin ceremoniously pushed straight into his chest ​— ​he also learned that the hunger for high altitude was in his veins: His estranged grandfather delivered a surprise commencement speech, revealing that he'd been a paratrooper during D-Day. During 10 years as a Green Beret, Weber served on strike missions in Desert Storm, deployed to Somalia and Cambodia, and was often sent to fight drug dealing in Central America, amid Nancy Reagan's "Just Say No" campaign and the Iran-Contra scandal of the 1980s.
After the military, Weber graduated early from medical school in Indianapolis and got into recreational skydiving, logging thousands of jumps. But he got bored. "It became so routine," said Weber, so for his next barrier-busting pursuit, he searched out the few Americans who'd started jumping off buildings and cliffs. "BASE jumping is all about where's the object, how do you get in, how do you get to the roof, how do you get off, how do you get away ​— ​all covert ops. It brought back the edginess of what I was doing in the military into civilian life."
He started hop-scotching at night across the Indianapolis skyline, impressing many, worrying others, and pissing off police. Since the jumping itself wasn't illegal, they'd arrest Weber for breaking and entering, trespassing, or reckless endangerment, but some cops would simply ask how he did it before letting him go. Meanwhile, during the daylight hours, Weber was fixing teeth, an occupation that still "gives me a lot of satisfaction."
BASE-specific parachutes had not been invented yet, so Weber and his cohorts were both pioneers and crash-test dummies, modifying skydiving equipment and perfecting maneuvers to slow their descents from high-rises, antennas, cranes ​— ​really, any fixed object at least a couple hundred feet off the ground. Today, BASE gear is a booming business. Not only can packs be purchased straight from retailers or eBay; there's even a school on federal land in Moab, Utah, where skydivers with at least 200 jumps learn how to handle closer-to-earth drops.
In 1998, Weber met former Santa Barbara resident and skydiving/BASE-jumping filmmaker Tom Sanders when they worked on a Discovery Channel feature about Venezuela's Angel Falls. Their partnership continued through stunt work for movies and commercials. In 2004, Weber moved to Santa Barbara, which, at the time, was home for a group of old-school jumpers like Mick Knutson, Henry Boger, Brian Choppin, Jan Davis, and Lisa Vander.
Weber is the only one left in town who still jumps, but will reunite with many of them in China. "We were the ones that started the rage and the swell of the sport," said Weber, "and we're all getting together for the first time in 10 years."
Claiming to be through with the renegade shenanigans of his younger years ​— ​like hurling into gorges from moving trains and getting caught by deputies on the ledge of Cold Spring Bridge ​— ​Weber now focuses on sanctioned events like Bridge Day in West Virginia, an annual gathering he helps organize of around 500 BASE-ers who take turns in front of 300,000 spectators. With China on the horizon, however, Weber didn't rule out the possibility of casing a few of the skyscrapers under construction in the communist country. "It's going to be fun," he said.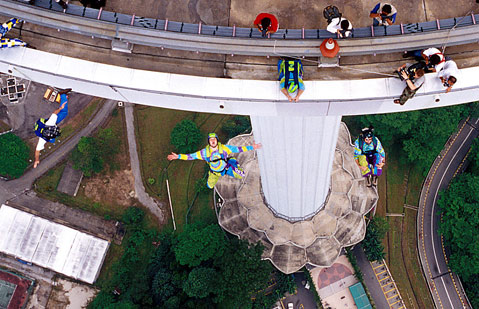 By Courtesy Photo