In 2012, a good friend and I enrolled in what might best be called Wine Grape Growing 101, a yearlong experience of following the seasons in Santa Barbara County vineyards on the way to making our first barrel of wine. Aside from a few lessons at the historic Bien Nacido Vineyard in the Santa Maria Valley, our home classroom was Ampelos Vineyard, where pinot noir, syrah, grenache, and a tiny bit of viognier grow on about 25 acres in the Sta. Rita Hills between Buellton and Lompoc. (Riesling is on the horizon, as well.) Our professor was the inimitable Peter Work, a former IT expert originally from Denmark who left his corporate career to focus on wine after a near-miss with the 9/11 attacks forced him to rethink his life.
I first met Peter and his wife, Rebecca, on a wine tour in 2007, when a brush fire broke out on the property next door as he explained his biodynamic farming practices and we sipped on his vibrant, alive wines. (Read about that day here.) In the ensuing years, we connected sporadically, but he really came back on my radar in early 2012, when I brought a French winemaker/filmmaker to his tasting room during the Santa Barbara International Film Festival. (Read about that here.) Because of that trip, I returned to Peter with film and wine on the brain to produce (with another good friend) a two-minute documentary that premiered as part of the Green Shorts Film Festival at the Lobero Theater last April. (See that video here.)
While filming that short, Peter heard that I was doing some vineyard learning with my friend at Bien Nacido, and he suggested that we do the same with him at Ampelos. So starting in March, we began regular trips to the vineyard to experience the seasons, get our hands dirty, and start the unending process of understanding and appreciating wine grapes.
I wrote a little about it last year here, but this year, based on my experiences — which included lots of lessons from vineyard manager Andres Lerena plus occasional chats with Jeff Newton of Central Coast Vineyard Care — and direct input from Professor Peter himself, I will be publishing a more detailed series of reports on what is happening in Santa Barbara County vineyards each season, which activities might be underway, and why. Toward harvest, we will also venture into the winemaking process inside the Ampelos Cellars wine production facility in Lompoc and check in with how our barrel of cool-climate syrah is doing.
Altogether, this series will bring Wine 101 to you, providing more information about what's happening to the county's rural landscape — something that even non-drinkers can appreciate —and, for those who love wine, why what happens each season matters so much for what's in your glass.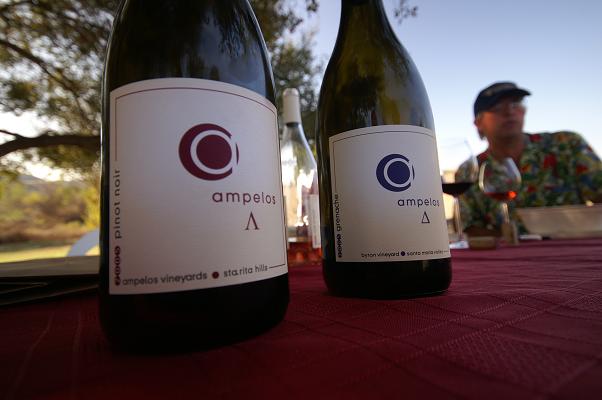 By Matt Kettmann