Everyone says they love Goleta Beach, where more than 1.5 million folks of all ages flock annually to enjoy the mix of sandy shoreline and grassy lawn. But when it comes to protecting Santa Barbara County's most popular park from storm damage and predicted sea-level rise in the decades to come ​— ​a decision once again looming for the county powers-that-be, as a study on the latest proposal known as "Goleta Beach 2.0" was released last month ​— ​there are two distinct ways of showing that affection.
Protect Park (and Save Sand)
One side of the lovefest wants to do everything possible to protect the easy access and unique park-meets-beach experience offered by the more than 600 parking spaces and four acres of lawn, where barbecues, picnic tables, playgrounds, horseshoe pits, and restrooms abound. This group, led most vocally by the Friends of Goleta Beach organization, believes that the park's current stretch of rock revetments — some put in legally in the 1960s, some illegally in the 1980s, and the rest installed with a now-expired emergency permit in 2002 — are essentially doing their job.
The California Coastal Commission is demanding those rocks be removed, based on the prevailing environmental credo that "hard" shoreline structures do more harm than good. But the Friends don't see the rocks causing much permanent damage to this or any downshore beaches. To them, hard is not bad, so long as it protects their favorite place to play. They're open to solutions that stop any currently developed piece from slipping away, including continuing the ongoing sand replenishment program that moves dredged soil from Goleta Slough to the beach; a return of the protective offshore kelp forest that was wiped away years ago; and even the planting of Canary Island date palm trees, similar to those that have seemingly stabilized Refugio State Beach since the 1930s. The group bought a dozen of those palms a few years ago, but their installation was thwarted by the county.
"What we're concerned about is the destruction of the park," said Friends' founder Ed de la Torre, a multi-generation Goleta resident who started working on this issue in 2002 and sees lots of wasted time and money in the ongoing discussions. "The sand will always be there. There's no scientific evidence that there's any environmental damage being caused by these rocks." [CORRECTION: Nancy Graham of Graham Chevrolet founded Friends of Goleta Beach.]
This position was hammered home this past Tuesday night at the Goleta City Council hearing, where 11 of 12 public speakers advocated for protection the park at all costs. By night's end, the council voted to send letters to the county decision-makers, stressing how important protecting all the existing park was to the people who visit, live, and work in Goleta.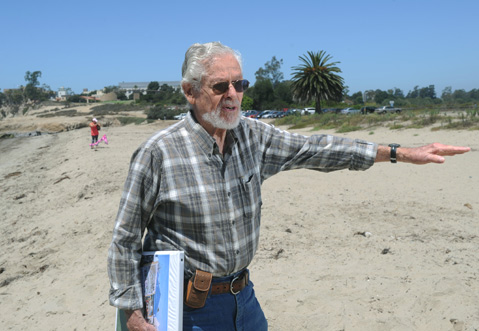 By Paul Wellman