Redesigning a landmark is risky business, no matter your zip code. But in Santa Barbara, it's a particularly dangerous endeavor. In the land of red-tiled roofs, if you dare mess with tradition, you'd best mess with it perfectly. So to say that a lot was riding on the Orient-Express purchase and remodel of the nearly century-old El Encanto hotel, an iconic spot cloaked in nostalgia and teeming with memories and the ghosts of Santa Barbara past, is putting it lightly.
And, it's worth saying ​— ​given the track record of other recent, lengthy resort/hotel turnovers and promises made, and delayed … and delayed (see: Miramar) ​— ​that the fact that the renovated El Encanto reopened for business in a mere seven years is something neighboring on a miracle. It seems particularly so when you consider the economic rollercoaster of those years, what the redesign entailed, and the goal: nothing short of recapturing the glamour and romance of the spot whose very name means "The Enchanted" while retaining its original character, ultimately, restoring the place to the grandeur of its heyday.
And what grandeur: While the grounds themselves ​— ​seven eucalyptus-studded acres draped over Santa Barbara's Riviera with sweeping views of the city and the ocean ​— ​are magnificent, the spot's rich history is even more compelling. It attracted plein air artists and catered to the carriage trade from the East Coast. And it's said that in its prime ​— ​which spanned, depending on whom you ask, some portion of the 1920s through the '50s ​— El Encanto was a playground for the rich and powerful, once hosting president Franklin D. Roosevelt and John Kennedy Jr. and serving as a frequent retreat for the stars of Hollywood's golden age, including Clark Gable, Carole Lombard, and Hedy Lamarr. Even as it became dated, its charm remained appealing: Mikhail Baryshnikov, Gwen Stefani, Barbra Streisand, Wolfgang Puck, and Leonardo DiCaprio have all been guests. Those are big bungalows to fill.
Beyond the name-dropping (fun as it is), the lore of the hotel is often sweetly personal, particularly for Santa Barbarans. Perhaps this is true for no one more than Kerin Friden, widow of Eric Friden, a Santa Barbara–based hotelier who bought the hotel in 1977, and El Encanto's owner prior to the Orient-Express. "What I love about it so much is almost anyone who has lived here for any period of time has a memory of the hotel," she said. "A special occasion or even just drinks on the terrace ​— everyone has a special story about it."
Friden has her own special memories. Before she and Eric were involved romantically, she was living in Oregon and came to Santa Barbara for a friend's annual St. Patrick's Day party, which was held that year in El Encanto's downstairs banquet room. Kerin wanted to check it out in the daytime, so she and a friend returned the following day for drinks on the terrace. "I said, 'Oh, this place is just so special!' I loved my career in Oregon, but I said to my friend, 'I want to move here and be the sales and catering director of this hotel ​— ​and I have no idea where that came from!'" she recalled saying of the strange wish she'd just spoken aloud.
The strange wish came true: On her flight home, the pilot gave the Oregon weather report (dismal), and Kerin made the decision to move right then and there. Soon enough, she was the sales and catering director. "It goes to show, sometimes you just have to put your intention out there," she said with a laugh. "Turned out I didn't like sales and catering much, but I loved the hotel."
She started working at El Encanto in 1982; she married Eric at the Lily Pond in 1993. After his death at 61 ​— ​caused by a tragic polo accident in 2003 ​— ​Kerin held his memorial service there. And then, in 2004, she let it go, entrusting it to the Orient-Express.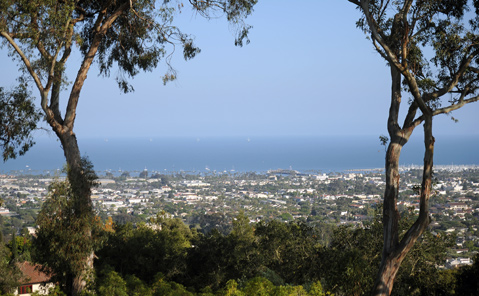 By Paul Wellman