"Any of you who know me know remaining dormant is not in my DNA," Assemblymember Das Williams proclaimed last week, referring to his bold and persistent effort to use state legislation to construct a community service district in the jam-packed town of Isla Vista.
Williams's self-described impulse was evident during the last meeting of LAFCO (Local Agency Formation Commission), at which he laid out his shell of a plan to create a special district in the unincorporated town ​— ​powers that are usually reserved for LAFCO. On Thursday, commissioners — made up of reps from the Board of Supervisors, city councils, and special districts ​— ​expressed concern that the bill would bypass local process, but Williams stressed that "intense dialogue" will occur in the next several months to flesh out the measure.
Thursday's discussion brought a range of interested students, permanent residents, and activists to the table, though the meeting ultimately raised more questions than it answered. At its crux was the outcome of any such district ​— ​how would it mitigate problems like last year's gang rapes, "civil unrest," and several tragic deaths?
Some expressed skepticism: "It's like breeding elephants. It doesn't happen in four months," quipped Bob Orach, Santa Maria city councilmember and LAFCO commissioner, stating a few months would be insufficient to study the issue and complete the bill. Isla Vista Property Owners Association chair Chuck Eckert likened the bill to finding solutions before identifying the problem. "It's like a windshield looking for a bug," he said.
Others swung back, charging that LAFCO denied Isla Vista cityhood 40 years ago and then sat on its hands for the last 29. "Most people are thinking, where have you been all of this time?" said longtime affordable-housing guru Frank Thompson, though it was later noted that LAFCO can only respond to applications as it is not a proactive agency.
In the 1980s,  ​a municipal advisory council ​— ​a panel with no governing powers ​— ​dissolved because of insufficient funding. Recently the matter has reignited a number of I.V. activists to hold town hall forums. And an 18-member committee created by the UCSB Board of Trustees ​— ​operating independently from university administrators ​— ​spent the summer studying the entire community. Among many recommendations, the group endorsed the idea of a community services district, and a UCSB faculty committee was formed to look at the report.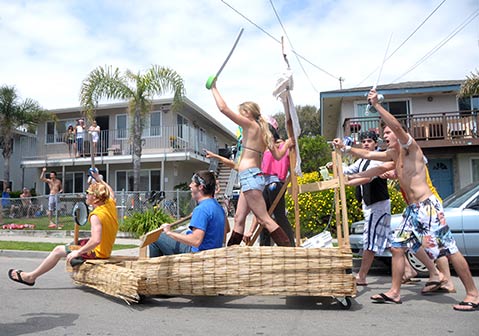 By Paul Wellman