News
Governing the Anarchist Bubble of Isla Vista
With Das Williams in the Lead, Taxation and Control is Examined in Earnest
"Any of you who know me know remaining dormant is not in my DNA," Assemblymember Das Williams proclaimed last week, referring to his bold and persistent effort to use state legislation to construct a community service district in the jam-packed town of Isla Vista.
Williams's self-described impulse was evident during the last meeting of LAFCO (Local Agency Formation Commission), at which he laid out his shell of a plan to create a special district in the unincorporated town ​— ​powers that are usually reserved for LAFCO. On Thursday, commissioners — made up of reps from the Board of Supervisors, city councils, and special districts ​— ​expressed concern that the bill would bypass local process, but Williams stressed that "intense dialogue" will occur in the next several months to flesh out the measure.
Thursday's discussion brought a range of interested students, permanent residents, and activists to the table, though the meeting ultimately raised more questions than it answered. At its crux was the outcome of any such district ​— ​how would it mitigate problems like last year's gang rapes, "civil unrest," and several tragic deaths?
Some expressed skepticism: "It's like breeding elephants. It doesn't happen in four months," quipped Bob Orach, Santa Maria city councilmember and LAFCO commissioner, stating a few months would be insufficient to study the issue and complete the bill. Isla Vista Property Owners Association chair Chuck Eckert likened the bill to finding solutions before identifying the problem. "It's like a windshield looking for a bug," he said.
Others swung back, charging that LAFCO denied Isla Vista cityhood 40 years ago and then sat on its hands for the last 29. "Most people are thinking, where have you been all of this time?" said longtime affordable-housing guru Frank Thompson, though it was later noted that LAFCO can only respond to applications as it is not a proactive agency.
In the 1980s,  ​a municipal advisory council ​— ​a panel with no governing powers ​— ​dissolved because of insufficient funding. Recently the matter has reignited a number of I.V. activists to hold town hall forums. And an 18-member committee created by the UCSB Board of Trustees ​— ​operating independently from university administrators ​— ​spent the summer studying the entire community. Among many recommendations, the group endorsed the idea of a community services district, and a UCSB faculty committee was formed to look at the report.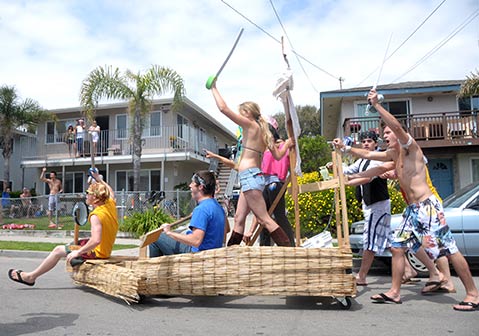 If Isla Vista advocates (young and old) had their druthers, Isla Vista would be a city. In a different approach, Solvang Mayor Jim Richardson proposed a military-based model that he dubbed "Fort I.V." ​— ​the thinking being that the university would swallow up Isla Vista, remove it from the county's jurisdiction, and take LAFCO out of the equation. Some property rights would be honored, but the state would have control. The residents could vote on state and federal matters, but not county ones, which would take 23,000 potential voters out of the 3rd District. A skeptical Williams called the idea "creative" but speculated it would be "far more controversial."
Currently, Isla Vista is represented by County Supervisor Doreen Farr, who also sits on LAFCO, and the Isla Vista Recreation & Park District (IVRPD). Noting the transient nature of the majority of the population, Farr supports Williams's bill because it would allow some representatives to be elected and some to be appointed. Expressing sympathy for Isla Vista's permanent residents, she suggested a utility user tax or a tax by bedroom to pay for services: "There are creative ways to make it proportional." Farr secured $30 million in funding and services from the county's general fund, though I.V. has outstripped the county's abilities, she said.
IVRPD generates $1.36 million annually in tax revenue, mostly from property taxes (29 percent) and a special tax based on number of bedrooms (60 percent). It manages all I.V. parks and runs a number of community programs, but its fate is uncertain should a community services district be created. Williams thought it would be advantageous to consolidate it with the new district for efficiency's sake.
It's also unclear how much revenue the community services district would have to bring in to pay for expected services, which raises the question of what services the community wants. Most assumed it would be the augmentation of existing law enforcement or fire departments. An ad hoc committee chaired by Farr was formed to continue to discuss the issues. The matter will return to LAFCO early next year so that commissioners can decide whether or not to support the bill.