Voters who choose to sit out this June 3 election do so at their own peril. And we might add, ours, too. The ominous Measure M gets this year's award as the Trojan horse with its too-good-to-be-true language. The 2nd District showdown pitting incumbent Janet Wolf against challenger Roger Aceves — and his oil-industry-financed campaign — threatens to tilt the fundamental balance of power at the board of supervisors. And in the race for Count Sheriff, we have a candidate in Bill Brown who actually did what he promised in his campaign. So here is the second installment of The Santa Barbara Independent's endorsements for the June 3 election. You don't have to agree with us; just consider our points, and then vote — by mail or in person. Just vote!
Bill Brown for County Sheriff
Sheriff Bill Brown isn't Superman. But he did secure $120 million in state funding to build a new North County jail, and by Santa Barbara County standards, that qualifies as the next best thing. As much as this paper abhors America's unsustainable appetite for "lock-'em-up" laws, the reality is that Santa Barbara's South County Jail has been in serious need of replacement for decades. Not only is it crammed to the gills, but it is unsafe for inmates and staff alike. That qualifies as inhumane.
For nearly 30 years, the construction of a new North County jail has been one of the holy grails of Santa Barbara politics. Brown's predecessors ​— ​some of whom were blessed with remarkable political gifts ​— ​all thrust their shoulders to this wheel; all failed to deliver. That Brown managed to acquire the land and talk $120 million from state agencies headquartered in Sacramento needs to be recognized as the remarkable accomplishment it truly is. And he was able to achieve this in the middle of the Great Recession. When Brown first ran for sheriff nine years ago, he pledged to get the new jail built. How many elected officials make good on campaign promises?
About $80 million will be spent to build a traditional 376-bed facility in North County, which will be completed in 2018. Another $40 million will be used to build a 228-bed facility designed to prepare inmates for the life skills needed when released. If all this seems expensive, it is. And these numbers only tell part of the cost. For example, the county will have to spend roughly $20 million a year to run the larger facility. That money has already been snipped out of the general fund. But as the state was forced to relocate thousands of less-threatening prisoners to avoid the wrath of federal judges, the Santa Barbara County Jail, already overcrowded, was compelled to absorb a whole new population — 150 on any given day. The court system ​— ​itself egregiously underfunded ​— ​has failed to process its criminal caseloads in a timely fashion. As a result, the number of county prisoners held behind bars while awaiting trial has nearly doubled. Add to the mix prosecutors who file "commercial burglary" charges on simple shoplifters, and you get system overload. We need a North County Jail. But we need more.
Although public-safety departments were spared the full brunt of budget cuts when the economy tanked, Brown's department took a major hit. Sixty-four full-time positions were eliminated. Restorative-justice and community-policing initiatives ​— ​which Brown championed early in his career ​— ​were never able to expand effectively. The County Jail has been the site of large-scale hunger strikes, multiple lockdowns, and other incidents. It is urgent that Sheriff Brown focus far more of his considerable talents on addressing these pressing problems now and not wait until 2018. We are confident that, when reelected, he will do so.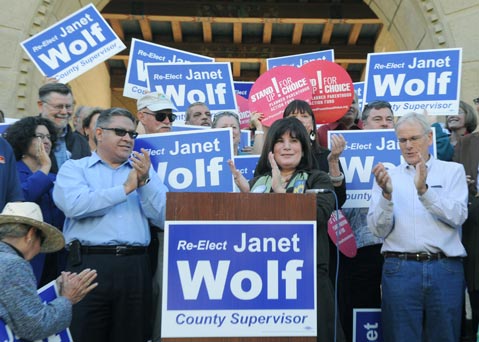 By Paul Wellman (file)