Taxi Service
Uber
There are many controversies surrounding the smartphone pay-to-ride service that enlists nonprofessional drivers as ad hoc hacks. On the plus side, there is a liberating sense of taking the streets back—regular people intervening in what was a viable job for many yet constituted a kind of de facto monopoly. Even though there was an explosion of new cab companies in the last 10 years, ride prices went up not down as the familiar market model is supposed to ensure. On the downside, licensed drivers have been replaced with unknown quantities, and there are many rumors of Uber sabotaging other companies. Uber has unstated costs, too, like a safety fee tacked on to riders late at night in this town. But whichever accounting system you use, Uber has neatly triumphed in The Indy's poll, and it will be fascinating to see how new technologies change other aspects of our rewired lives.
FINALIST: ROCKSTAR TRANSPORTATION
Motorcycle Dealership
Ducati of Santa Barbara
17 W. Montecito St., 884-8443
"We are absolutely ecstatic," said Carlin Dunne, who has slowly but surely been taking over the business from his father, Trevor, who opened the shop in 1978. (Don't worry, his dad knows.) "I think we win this because we care about people; we have individual relationships with many of our customers. And we're passionate about motorcycling, and we want to make other people feel the same way, too," said Carlin, who wants people to notice the alternative to cars that motorcycles and scooters represent.
FINALIST: SANTA BARBARA HONDA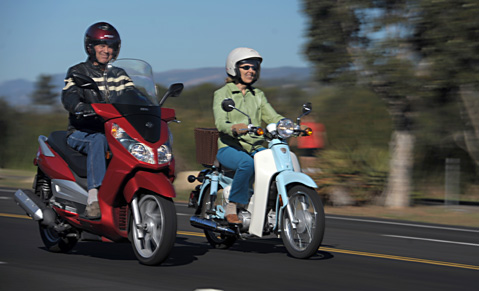 By Paul Wellman (file)