Taxi Service
Uber
There are many controversies surrounding the smartphone pay-to-ride service that enlists nonprofessional drivers as ad hoc hacks. On the plus side, there is a liberating sense of taking the streets back—regular people intervening in what was a viable job for many yet constituted a kind of de facto monopoly. Even though there was an explosion of new cab companies in the last 10 years, ride prices went up not down as the familiar market model is supposed to ensure. On the downside, licensed drivers have been replaced with unknown quantities, and there are many rumors of Uber sabotaging other companies. Uber has unstated costs, too, like a safety fee tacked on to riders late at night in this town. But whichever accounting system you use, Uber has neatly triumphed in The Indy's poll, and it will be fascinating to see how new technologies change other aspects of our rewired lives.
FINALIST: ROCKSTAR TRANSPORTATION
Motorcycle Dealership
Ducati of Santa Barbara
17 W. Montecito St., 884-8443
"We are absolutely ecstatic," said Carlin Dunne, who has slowly but surely been taking over the business from his father, Trevor, who opened the shop in 1978. (Don't worry, his dad knows.) "I think we win this because we care about people; we have individual relationships with many of our customers. And we're passionate about motorcycling, and we want to make other people feel the same way, too," said Carlin, who wants people to notice the alternative to cars that motorcycles and scooters represent.
FINALIST: SANTA BARBARA HONDA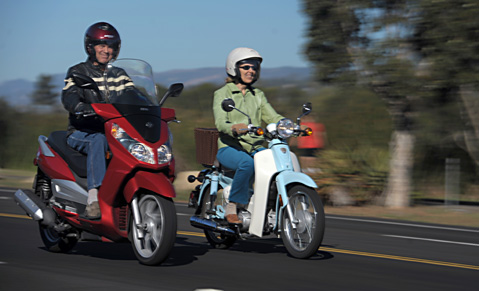 Scooter Dealership
Ooty's Scooters
629 E. Haley St., 965-8101
"We're honored to win again," said owner Chris Neely. "What we're doing is trying to change the way Santa Barbarans get around town one car at a time." In its seventh year, the former Mountain Drive jeweler's biz is the direct effect of a number of epiphanies he had on an around-the-world trip taken with his spouse, Kathy, a Waldorf teacher. They saw how others lived vibrant lives without jumping in a big SUV every time they needed a quart of milk from the store and vowed to bring that way of life home—and make a living from it at the same time. The readers are obviously pleased with Neely's resolve. The SYM scooters he sells can get 75 miles to the gallon, and that's an honor done to our environment.
FINALIST: DUCATI OF SANTA BARBARA
New Car Dealership; Used Car Dealership
Toyota of Santa Barbara
5611 Hollister Ave., Goleta, 572-1130
"The auto industry is very strong," claimed Toyota of Santa Barbara general manager Mike Caldwell. "We think there was some demand held up during the worst of the recession, but it's booming now. I think people vote for us because it's a great brand, and we provide quality service." The Prius is responsible for more than 30 percent of area business, said Caldwell. "We're very happy and very grateful to the readers and to all of Santa Barbara."
FINALISTS: PERRY FORD OF SANTA BARBARA (NEW CAR DEALERSHIP); MILPAS MOTORS (USED CAR DEALERSHIP)
Car Wash/Detailing
Educated Car Wash
3735 State St., 687-8800
Prices range from a $13.95 basic clean to a $200 detail, and the 32-year-old business offers the extra incentives of an all-hand wash with the cheapest prices in town. It's like sending your car to a spa. The industry estimates people save 50 percent of the water they use to wash their car by taking it to a pro. In times like these, it all seems a bit scary, but if you must clean the coupe, this is probably the place.
FINALIST: FAIRVIEW CAR WASH
Quick Oil Change
Jiffy Lube
Many locations
It's a chain that never loses in this category—where you go with your automobile to perform the most important maintenance you can actually do to prolong the life of the car. They are fast, easy-to-find, and, for those of us who don't like to even think about car repairs, equipped with a nice waiting room full of magazines—cheap, too.
FINALIST: FAST LANE
Place to Get Tires
Ian's Tires & Auto Repair
4299½ State St., 683-0716
Eric Miller just bought Ian out, but don't worry: Ian is his dad. Besides that, the rest of the crew are the same. "Most of our staff has been with us for a long time," he said. That would be since 1991, when this store began acquiring not only faithful workers but also a lot of clients. "Our prices are competitive," said the younger Miller. "And our service is great. We have a lot of longstanding customers."
FINALIST: COSTCO
Car Rental
Enterprise
Many locations
It's one of those things you don't really want to do, as it implies either your own car is broken or just unequal to the job. (Some people don't own cars, even in California, so to them renting may be a guilty pleasure.) It's important to know that the readers have voted this chain over all others and above and beyond any mom-and-pop available. It's reasonably priced and convenient as can be, and if you're biting the bullet, it's at least comforting that others can tell you where it bites back the least.
FINALIST: HERTZ
Auto Repair
Richard's Accurate Import Service
401 Santa Barbara St., 962-1741
"I think we keep winning this because people know we have integrity," said Richard's owner Mike Bishop. "We will never sell you anything you do not need, and our customers know that." In business for more than 35 years, Bishop is proud of the fact that his repair biz stays abreast of new technologies and still knows how to have fun.
FINALIST: THE GARAGE