Ric Rew has unofficially maintained and beautified the beachside area off Santa Claus Lane for eight years — he is sure of the number because it's also the age of his toy poodle Cheesecake, whose need for exercise first sparked Rew's daily visits to the beach. During a recent mid-July visit, however, overcast skies accented an already grim scene: a scattered mess of dirt and rocks, along with broken pieces of wood and several uprooted plants, where before had been the fruits — or blooms, rather — of the 62-year-old veteran's labor.
Rew spent seven and a half years on active duty as a Navy photographer before he took to the Central Coast in 1984 to refine his craft at Brooks Photography School. Over the course of recent years, however, Rew has devoted his loyal service to a new, self-appointed post: curator of an eclectically designed patch of land dubbed the "Karma Garden." The small land plot, once home to all manner of plants, wind chimes, and artfully arranged driftwood, was bordered on its sides by paths Rew maintained between the road and the beach, and on its front by ropes fastened to a post bearing the garden's whimsical name. By mid-July, the only remaining sign was a small piece of cardboard with an anonymous message: "Karma Garden gone? Who would do this?"
Earlier this month, Santa Barbara County parks officials brought down the bureaucratic hammer on the garden, citing it as a liability for its "unnatural" design. On Rew's July 5 visit to the garden, he encountered an official notice to vacate the premises within 72 hours. This deadline was an effort to ensure that no personal property would be destroyed when the area was leveled, according to Paddy Langlands, Deputy Director of County Parks. As promised, a bulldozer arrived on June 8 to upend what remained at the site.
It wasn't the first time the unsanctioned oasis had drawn attention from local officials. Rew encountered a similar notice on another daily visit around a year and a half ago. He promptly got on the phone with Jeff Lindgren, operations manager for mid-county parks. Lindgren explained that the county was concerned about having to maintain the garden, which had not acquired the necessary permits to begin with. He ultimately agreed to let it stay, with the understanding that Rew would continue to maintain the area and prevent it from becoming a county liability.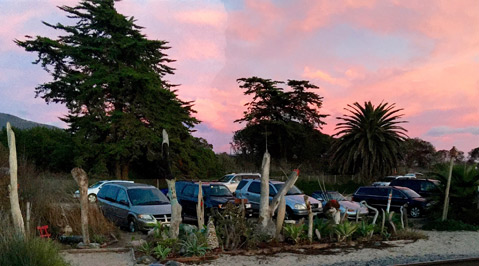 By Courtesy Photo