What exactly went wrong with Line 901 at Refugio, how long the pipe leaked, and the size of the fissure remain unclear. These are the facts as we know them as of press time:
10:45 a.m. Plains All American Pipeline states mechanical issues with Line 901 arose at this time.
10:55 a.m. An operator has to restart the pumps at the Sisquoc Pump Station, which is about 50 miles north of the spill site.
11:15 a.m. The Sisquoc pumps go down again, according to the company. It's unclear if the mishap with these pumps is related to the spill.
11:30 a.m. After "pressure anomalies" occur that morning, a Plains operator at the Midland Control Center in Texas remotely shuts down the ruptured pipe.
11:42 a.m. The first 9-1-1 call reporting strong oily odors comes in to the dispatch center for Gaviota. In response, a crew from County Fire Station 18 goes out on the bluffs to investigate the strong odor and follows it down to the beach at Refugio.
Meanwhile, an oil-spill-response drill just happened to be scheduled to take place two miles up the coast at the Freeport-McMoRan facility; participants include county Office of Emergency Management (OEM) staff and Plains employees. They call off the drill and head to Refugio to help Engine 18's crew hunt down the suspected spill.
Eventually, Engine 18's crew and county staff find oil pouring into the ocean. A slick of fresh crude oil, a quarter-mile long, 100 feet wide, could be seen in the ocean, said Captain Dave Zaniboni, S.B. County Fire Department's spokesperson. Engine 18's crew notifies dispatch, and calls go out to the county OEM, the U.S. Coast Guard, and the state's warning center. The spill source is unknown, and speculation names the culprit to be an old, abandoned pipe nearby.
12:39 p.m. The Coast Guard receives notice of the spill, and four minutes later, the National Response Center receives notice.
Meanwhile, trekking north of the freeway, the group traces the spill across the railroad tracks, crawling under a chain-link fence near a culvert. From their vantage point, they see a giant pool of something wet and smell a pungent odor. "It was unbelievable. It was something you don't ever want to see," OEM emergency manager Elsa Arndt told The Santa Barbara Independent. Plains employees are able to identify the location where the oil appeared to be coming from as one of their pipelines. More resources are called in.
1:30 p.m. A Plains employee confirms the release; then, "We initially launched the emergency response," said Plains communications manager Meredith Matthews.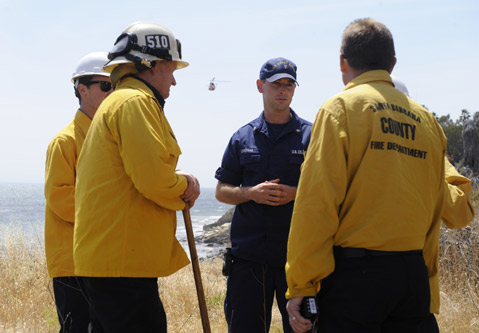 By Paul Wellman