Stiffest Drinks
Joe's Café
536 State St., 966-4638, joescafesb.com
At this point, Joe's ​— ​a Santa Barbara staple since 1928 ​— ​doesn't really need an introduction or an explanation as to why it wins this category every year. The bartenders at Joe's, a wholly professional crew unto themselves, have been pouring them stiff and fair for generations. Crafty veterans of the State Street crawl have long known that the most memorable nights (or, perhaps, the hardest-to-remember nights) begin with a drink or two at this classic California steakhouse. And if you really want to put your liver in the hurt locker, ending your night at Joe's is a surefire way to accomplish that. For many of these same reasons and more, the bar is full and bustling around quitting hour each and every day with many of S.B.'s movers and shakers.
Finalist: Harry's Plaza Café
Tea Selection
Vices & Spices
3558 State St., 687-7196, vicesandspices.net
It's been 40 years since Blue Booth opened his epic little coffee and tea hideout on upper State Street, and in his opinion, there's never been a better time to be a tea drinker. "It is similar to what happened with coffee in the '70s and '80s: People are realizing there is a real specialty market for teas," says Booth. "It has become more popular than ever, and there have never been more options than we have today, especially with organics." Whether it is herbal, decaf, green, white, or black, Booth and company have scoured the international tea circuit to bring the very best home to Santa Barbara.
Finalist: The Coffee Bean & Tea Leaf
Happy Hour
Enterprise Fish Co.
225 State St., 962-3313, enterprisefishco.com
Happy Hour is a bit of a misnomer at Enterprise. It is much more of a Happy Hour After Hour situation ​— ​really, a Happy Evening type of deal. From 4 to 8 p.m. every weeknight and 5 p.m. until close on Sundays, 20 oz. draft beers are $5, well drinks are $4, and house wine is $4.50 a glass. But the real savings happen on the food side of the menu, where an impressively long list of "Happy Hour" plates and apps are available at a deep discount. Oysters on the half shell, Hawaiian poke, shishito peppers, veggie pot stickers, ceviche, skirt steak satay, fish tacos, and salmon cakes are but a few of the tasty eats you will find for $10 or less.
Finalist: Boathouse
Valley Tasting Room
Demetria
6701 Foxen Canyon Rd., 686-2345, demetriaestate.com
Tasting wine at Demetria Estate is a much different sort of deal than most anywhere else in the valley. First off, the tasting room is open daily but available by appointment only. Secondly, there is no need to shoulder your way into a busy bar in order to sample the goods; instead, it happens outdoors on a grand patio with soul-nourishing views of rolling hills and row upon row of vines. Lastly, the pourers come to you and let you make your way through the menu at your own pace. "We are definitely not for the rushed crowd," says general manager Alexis Zahoudanis, whose family started the winery a decade ago. "You get to sit down and relax here and maybe enjoy a picnic lunch or some light snacks. By design, it is a leisurely and wonderful experience."
Finalist: Sunstone Winery
Beer Selection on Tap •
S.B.

County Brewery • Funk Zone Spot

Figueroa Mountain Brewing Co.

137 Anacapa St., 694-2252, figmtnbrew.com

They won't be celebrating the third anniversary of their Funk Zone taproom until next May, but this Buellton-born brewery is already a main draw in their neighborhood. Winning best Selection on Tap when you only sell your own beers is a telling bit of democracy and one that goes a long way to illuminating why they are also considered the best S.B. County Brewery and the best Funk Zone Spot by our readers. Offering a wide array of beers, 15 to 20 to be exact, the taproom always features mainstays like the Davy Brown Ale and the Hurricane Deck Double IPA, as well as unique one-offs and seasonal cask ales only available there. "We really try to create a true tasting experience for people," says owner Jaime Dietenhofer. Seek out the Stearns Irish Stout (a recent Gold Medal winner at the 2015 Great American Beer Fest) and their brand-new Wet Hop Hoppy, made with fresh hops grown at Sea Smoke Vineyards.

Finalists: Eureka (Beer Selection on Tap)

Telegraph Brewing Company (S.B. County Brewery)

The Lark (Funk Zone Spot)
S.B.

Wine Tour Company

Sustainable Vine Wine Tours

698-3911, sustainablevinewinetours.com

There is only one group and one private tour available each day from the fellas at Sustainable Vine. Often the public wants more, but owners Bryan Hope and Scott Bull aren't interested in changing their commitment to small-batch, personal adventures in wine country. By exclusively touring wineries committed to organic and/or biodynamic growing techniques and doing so in fuel-efficient luxury Mercedes-Benz vehicles, the duo ​— ​both of whom are blessed with the gift of gab, outwardly kind hearts, and vast amounts of both grape growing and drinking knowledge ​— ​have quickly become our readers' top pick.

Finalist: S.B. Adventure Company
S.B.

County Winery White Wine •

S.B.

County Winery Red Wine

Santa Barbara Winery

202 Anacapa St., 963-3633, sbwinery.com

There is a certain amount of poetic justice in Santa Barbara Winery getting the nod from our readers as the best makers of both red and white wines. After all, when Pierre Lafond started the place in 1962, it was the first winery in the county since Prohibition. With well nearly 200 wineries opening since then, the staying power of S.B. Winery is especially indicative of their excellence. "Of all the scores or medals or accolades that we might get, these awards from The Independent's readers and the people of our city are the ones we are most proud of," explains assistant winemaker Will Cannon. "It is very affirming that we are doing our job well."


Finalists: Brander Winery (White Wine)

Foxen (Red Wine)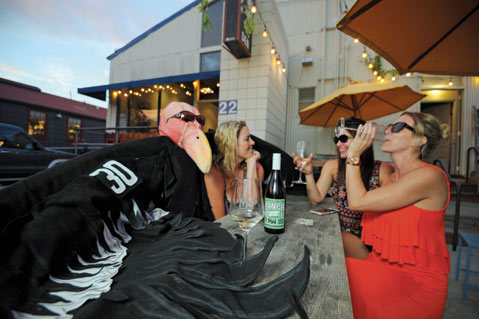 By Paul Wellman