Seafood Restaurant • Clam Chowder • Bloody Mary
Brophy Bros. Clam Bar & Restaurant
119 Harbor Wy., 966-4418, brophybros.com
Like a sentinel at its post, the Bennett family's restaurant has been presiding over the Santa Barbara Harbor since it first opened its doors in 1986. A truly East Coast–inspired emporium of seafood, epic views, and well-made drinks, the two-story, waterfront eatery pulls double duty as a beloved local haunt and a crowd-pleasing tourist trap. It is also one of only two three-category winners this year, an especially impressive feat when you consider that each ballot is allowed to name the same business as "Best" only twice. Clearly, everybody knows seafood and clam chowder and bloodies all taste better with a sea breeze.
Finalists: Fishouse (Seafood Restaurant)
Beachside Bar-Café (Clam Chowder)
Health Food/Nutrition Store
Lazy Acres Market
302 Meigs Rd., 564-4410, lazyacres.com
This place was Santa Barbara's personal version of Whole Foods long before Whole Foods ever thought about coming to town: health-conscious (with a bit of a bite at the cash register), impossibly nice and knowledgeable longtime employees, a full-service butcher, extensive bulk food bins, a sushi bar, a coffee bar, a mouthwatering deli, great wine and beer selection, a juicery, extensive and often local produce, and all the vitamins and supplements and general New Age health additives that you and your dream catcher could hope for. And its parking lot is actually user-friendly! Once again, Lazy Acres is tops with our readers.
Finalist: Whole Foods Market
Produce Stand/Greengrocer
Santa Barbara Farmers Market
Many locations, sbfarmersmarket.org
Make no mistake: Santa Barbara County is, first and foremost, a farming and ranching community. From this truth flows one of our town's greatest luxuries, a fresh, affordable, and insanely varied Farmers Market nearly every day of the week. Whether you prefer the festival-like atmosphere and community vibe of the downtown Saturday market or the after-work breath of fresh air offered by the Tuesday-evening incarnation on State Street, or any of the other five pop-up markets throughout the week from Solvang to Carpinteria, it is clear that Santa Barbara Farmers Market is a lynchpin part of life on the South Coast.
Finalist: Tri-County Produce
Ice Cream Shop
McConnell's Fine Ice Creams
Two locations, mcconnells.com
Ever wonder what a true and undisputed Santa Barbara institution looks like? You need look no further than McConnell's. Though it has experienced a couple of ownership changes and local retail-rights sell-offs in the 60-plus years since Gordon McConnell opened the place, the important stuff hasn't changed. The ice cream is still impossibly dense and creamy. The scoop shop on Mission is like some sort of frozen treat mecca that swells with crowds nearly every night. The newest shop on State is fast becoming the same way, and all the deliciousness is still made in the building under the cow statue just off Milpas Street.
Finalist: Rori's Artisanal Creamery
Frozen Yogurt Shop
Yogurtland
Two locations, yogurt-land.com
Welcome to frozen yogurt nirvana. Essentially a self-service establishment, Yogurtland explodes your brain with flavor and topping options while leaving your wallet a little less abused, thanks to a refreshingly inexpensive pricing scheme based on the weight of your serving size. The ingredients are real, and the yogurt is vitamin-packed, loaded with calcium, and full of living probiotic cultures. It's practically medicinal, albeit with Reese's Peanut Butter Cups and gummy worms on top. As for your actual yogurt options, the gamut runs from mainstream staples like vanilla and blue raspberry to less expected twists like guava grapefruit, mango piña colada tart, and churro.
Finalist: McConnell's Fine Ice Creams
Chocolate Company
Chocolate Maya
15 W. Gutierrez St., 965-5956, chocolatemaya.com
At the root of Chocolate Maya's popularity with our readers is a love story. Owner Maya Schoop-Rutten grew up in Geneva, Switzerland, and it was in those halcyon childhood days that she fell head-over-heels in love with high-quality chocolate. Her family even had a special ornate cabinet for chocolate storage. And so, back in 2007, Maya sold her popular breakfast/lunch spot the Comeback Café and focused singularly on bringing the finest natural chocolates and truffles imaginable to Santa Barbara, including her own artisan line of hand-dipped and decorated organic treats. Chocolate Maya was born, and life in S.B. has been a little sweeter for all of us ever since.
Finalist: Chocolats du Calibressan
Bakery
Renaud's Patisserie & Bistro
Many locations, renaudsbakery.com
What first started as a simple place to get real-deal French pastries has grown into a dangerously toothsome culinary monster. Executive chef and namesake cofounder Renaud Gonthier has indeed achieved his initial goal of tasty pastries and croissants in the heart of the American Riviera ​— ​and then some. A trip to the display cases at any of Renaud's three S.B. spots forces a quick reckoning with the limits of your own will power as row after perfectly lit row of fresh cakes, tarts, cookies, macaroons, lemon bars, and éclairs call to you. An equally appetizing bistro menu threatens to highjack whatever breakfast or lunch plans you may have. If you simply order what looks good, you very well might go home with everything.
Finalist: Jeannine's Bakery
Doughnut Shop
Spudnuts
Many locations, spudnutsdonutssb.com
Again and again, Spudnuts takes home top honors in our Doughnut Shop category. Open 24 hours a day at some locations and offering a full line of raised, cake, and old-fashioned doughnuts, as well as pastries, croissants, coffee, and sandwiches, Spudnuts clearly has all your late-night cravings and early-morning needs covered. They also do a Maple Bacon Donut Bar that is a certifiable religious experience. But the real power of this place lies in its namesake main ingredient, the potato! That's right, readers ​— ​all these world-beating donuts are made with a potato-based batter, and the end result is dangerously delicious and apparently quite addictive for our readers.
Finalist: Eller's
Cupcakery
Crushcakes & Café
Many locations, crushcakes.com
The secret here, according to owner Shannon Noormand, is real butter, real fruit, real Belgian chocolate, and one guiding rule. "We don't ever bake the day before," says Noormand, before adding emphatically, "Ever." Besides its all-but-predictable win in the cupcake category, Crushcakes also got runner-up in the Wedding Cake category this year, a nod from the readers that Noormand was particularly proud of. "We've been doing [cakes] from the beginning, but they have just been quietly delicious … It's nice to see that recognition."
Finalist: Enjoy Cupcakes
Carpinteria Restaurant
Sly's
686 Linden Ave., Carpinteria, 684-6666, slysonline.com
An elegant collision of French cuisine and a coastal California steakhouse, Sly's can induce a pleasant sort of mental dissonance while surveying their menu. Filet mignon meatloaf specials and racks of lamb share real estate with linguine and fried clams, local abalone, and some of the most decadent macaroni and cheese you can imagine. The bar takes drinking seriously, and so the cocktails are crisp, classic, strong, and organized on the menu by the year they were invented. "We are still just doing what we do," says owner and chef James Sly. "It feels good to know that well-made food and drinks are still working so well."
Finalist: The Palms
Bagel Shop
Jack's Bistro & Famous Bagels
Two locations, bagelnet.com
It is a fine thing when the collective taste of our readers aligns perfectly with our own here at The Independent, and when it comes to the topic of bagels in Santa Barbara, we are in lock step with you once again this year. Every Wednesday morning, a large load of fresh Jack's bagels with a full complementing array of cream cheeses gets dropped in our staff kitchen. It is a gift from the Indy brass to help us down the homestretch of the weekly deadline crunch, the light and fluffy assortment of garlic, jalapeño, bialy, everything, and sesame-seed bagels representing a particularly tasty bribe by our bosses. Turns out, most of you are bribing yourselves similarly.
Finalist: Bagel Café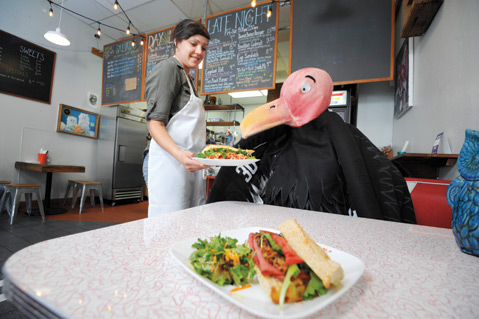 By Paul Wellman