Bill Brown has to be the only sheriff in all 58 California counties to quote Roman philosopher Marcus Tullius Cicero and American modernist poet T.S. Eliot in the same breath after having been scorched two hours straight by all five county supervisors, as he was this Monday. Brown clearly scored major style points as he wondered out loud whether Eliot's "April is the cruelest month" was a more apt conclusion to his first budget preview this year than Cicero's "Not for ourselves alone are we born." Given what little headway Brown made with the supervisors —who peppered him with questions and made no effort to disguise their impatience ​— ​he might better have quoted comedian Rodney "I don't get no respect" Dangerfield.
Brown got massively whammied last Thursday when the three bids for the proposed new North County jail turned out to be at least $11 million more than county experts had estimated. The proposed new jail ​— ​376 beds ​— ​was estimated to cost $96 million, making it the most expensive public works project in county history. Of that, 90 percent would be paid for by a state grant Brown secured; the county's general fund would cover the rest. For Brown, the supervisors, and county administrators, the extra $11 million has induced a profound case of sticker shock. Although no one is pretending to know exactly what made the bids come in so much higher, Brown is insisting the need for the new jail remains just as dire as ever.
The South County Jail has been deemed overcrowded and unsafe for more than 20 years. Last November, the supervisors affirmed their commitment to the project by a 4-1 vote, but those numbers overstate the support Brown and his jail plans enjoy with them. In that same hearing, the supervisors rejected a 228-bed transitional wing of the new jail that Brown had championed, walking away from a state grant for $38.9 million to build the thing. That vote gave Brown and his aides high anxiety over future support for the jail project. And that was before the bids were open. Though this $11 million question was only alluded to during Monday's budget presentation by Brown ​— ​and only in passing ​— ​it nonetheless remained the 800-pound gorilla in the room.
In this context, Brown's request for $5.2 million above and beyond what county administrators had hoped for proved a big pill for the supervisors to swallow. Those funds would allow him to hire 10 sheriff service technicians ​— ​a new, cheaper, and easier-to-fill position ​— ​who don't carry weapons, but who can issue parking tickets and help out in the jail. By putting 10 in the jail, he would free up custodial officers to walk the floors. Likewise, he'd hire three for patrol work, thus liberating three sworn officers from parking enforcement duties. In addition, Brown asked for extra money to hire new jailers for the North County jail, and nearly $1 million to keep the Santa Maria booking jail open. Without this funding, Brown said, he'd be forced to close the Santa Maria booking jail, which costs $951,000 a year to operate. Closing it, Brown said, would be the least terrible of many terrible options.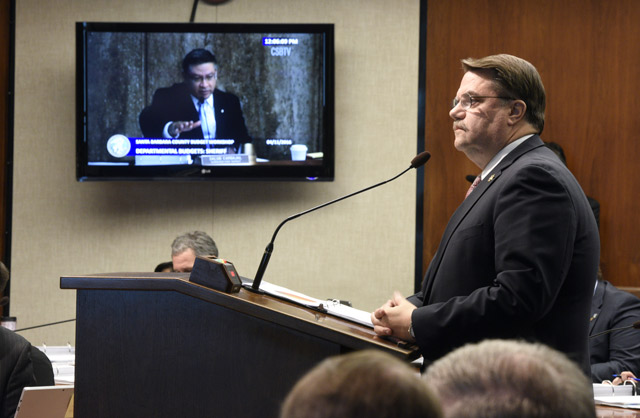 By Paul Wellman