News
Sheriff Grilled over Spiraling Costs, Morale Crisis
Supervisors Take Him to Task for Higher Jail Funding, Recruitment Woes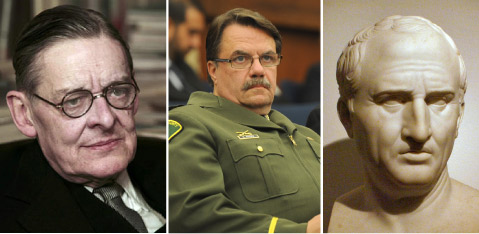 Bill Brown has to be the only sheriff in all 58 California counties to quote Roman philosopher Marcus Tullius Cicero and American modernist poet T.S. Eliot in the same breath after having been scorched two hours straight by all five county supervisors, as he was this Monday. Brown clearly scored major style points as he wondered out loud whether Eliot's "April is the cruelest month" was a more apt conclusion to his first budget preview this year than Cicero's "Not for ourselves alone are we born." Given what little headway Brown made with the supervisors —who peppered him with questions and made no effort to disguise their impatience ​— ​he might better have quoted comedian Rodney "I don't get no respect" Dangerfield.
Brown got massively whammied last Thursday when the three bids for the proposed new North County jail turned out to be at least $11 million more than county experts had estimated. The proposed new jail ​— ​376 beds ​— ​was estimated to cost $96 million, making it the most expensive public works project in county history. Of that, 90 percent would be paid for by a state grant Brown secured; the county's general fund would cover the rest. For Brown, the supervisors, and county administrators, the extra $11 million has induced a profound case of sticker shock. Although no one is pretending to know exactly what made the bids come in so much higher, Brown is insisting the need for the new jail remains just as dire as ever.
The South County Jail has been deemed overcrowded and unsafe for more than 20 years. Last November, the supervisors affirmed their commitment to the project by a 4-1 vote, but those numbers overstate the support Brown and his jail plans enjoy with them. In that same hearing, the supervisors rejected a 228-bed transitional wing of the new jail that Brown had championed, walking away from a state grant for $38.9 million to build the thing. That vote gave Brown and his aides high anxiety over future support for the jail project. And that was before the bids were open. Though this $11 million question was only alluded to during Monday's budget presentation by Brown ​— ​and only in passing ​— ​it nonetheless remained the 800-pound gorilla in the room.
In this context, Brown's request for $5.2 million above and beyond what county administrators had hoped for proved a big pill for the supervisors to swallow. Those funds would allow him to hire 10 sheriff service technicians ​— ​a new, cheaper, and easier-to-fill position ​— ​who don't carry weapons, but who can issue parking tickets and help out in the jail. By putting 10 in the jail, he would free up custodial officers to walk the floors. Likewise, he'd hire three for patrol work, thus liberating three sworn officers from parking enforcement duties. In addition, Brown asked for extra money to hire new jailers for the North County jail, and nearly $1 million to keep the Santa Maria booking jail open. Without this funding, Brown said, he'd be forced to close the Santa Maria booking jail, which costs $951,000 a year to operate. Closing it, Brown said, would be the least terrible of many terrible options.
Supervisor Steve Lavagnino, who represents Santa Maria, strongly disagreed. "This is just not an option," he said. "I would not be doing my job if I allowed this." Santa Maria Police Chief Ralph Martin urged the supervisors to keep the jail open. Santa Maria arrested 6,034 people this past year, and if the Santa Maria jail ​— ​where there were 2,200 bookings last year ​— ​were closed, that would be roughly seven prisoners a day law enforcement officers would have to escort to the South County Jail. Each of those trips ​— ​there and back ​— ​would keep one of his officers off patrol. Santa Maria, he reminded the supervisors, has experienced 20 homicides this past year and has been the focus of an intense battle between law enforcement and the international MS-13 street gang.
Brown said the 13 new service technicians he sought would help him address serious problems retaining existing employees and hiring new ones. Retirements and transfers to other departments have reached new heights. Brown blamed relentlessly negative media attention to the behavior of a few rogue cops for turning off the spigot of new recruits. County supervisors Salud Carbajal and Peter Adams ​— ​who rarely see eye to eye ​— ​expressed agreement the Sheriff's department was in the throes of a full-fledged "crisis," which, they added, seriously undermined morale of the troops. What, they repeatedly demanded of Brown, was his plan to turn things around? Brown answered he would cast his net "farther and wider." Adam shot back Brown needed "to put some bait in it." Carbajal joined in, "There has to be some strategy to our madness."
When Brown said he started as sheriff nine and a half years ago, the department had 708 employees. During the recession it hit as low as 617. Even with some of those cuts restored, he said he was forced to declare mandatory overtime to keep staffing levels at the bare minimum required. Twice last month, he closed the Santa Maria jail because staffing levels fell below that minimum. He acknowledged this imposed a hardship on deputies, who, he also noted, hadn't had a raise since 2011 and were without a contract for the past year. Union spokesperson Sergeant Matt McFarlin said because of the shortage, deputies getting off a 12-hour shift will find themselves asked to work an extra six. "The word 'crisis' is supposed to be temporary, but this is the second time we're being asked to work mandatory overtime," he said. "We're getting tired."
Cognitive dissonance hit its peak Monday when the supervisors expressed incredulity Brown was seeking budgetary authorization to create new positions while he currently has 56 vacant positions for which funding has been provided. Of those, two-thirds are sworn officers, the rest civilian employees. The supervisors were especially miffed that the Chumash Casino ​— ​as well as the contract cities for which the Sheriff's department provides law enforcement ​— ​was getting exactly the number of officers stipulated by their contract while the rest of the unincorporated county had to absorb the staffing shortfall with slower response by tired and overworked deputies. "Maybe we should have a contract," said Supervisor Janet Wolf. The supervisors were equally galled to learn that the money not spent because there were so many vacancies covered about $4 million of the $6 million annually spent on overtime.
Brown absorbed the questions, frequently answering, "I share your frustration." The recruiting crisis, he told the board, was endemic to all law enforcement agencies. And despite all the problems, Brown expressed pride in the performance of his department, noting that his deputies made an arrest in the triple homicide of herbalist Henry Han, his wife, and their daughter within 32 hours of the bodies being discovered. Deltopia, he added, is no longer ground zero for Spring Break rages, and his department helped collect 30,000 pounds of old and expired prescription medications.
Based on the selflessness and sense of purpose his deputies exhibited, Brown said, he'd select the Cicero quote, "Not for ourselves alone are we born." In the meantime, he and the supervisors will convene a collective brain dump to solve the $11 million mystery of the North County jail bids on May 5. And this week's Punch and Judy exhibition between Brown and the supervisors was just a preview of the long deliberative process that won't conclude until early this summer.