Joseph Castro walked into the interrogation room cocky and relaxed. He joked with detectives and showed off his gang tattoos, taking special pride in the "fukk my enemies" along his collarbone. The extra "k," he explained, was for the Eastside Krazies, the Santa Barbara gang he joined when he was 12 years old, like his uncles and grandpa before him.
Six hours later, Castro was a broken man, worn down by a relentless line of questioning over the murder of Kelly Hunt. He held his head and sobbed as he confessed to killing the Ventura gang member the previous February. He said he used a .38 revolver loaded with hollow-point bullets to shoot Hunt four times as they walked down Olive Street, twice in the back and twice after he hit the pavement. Castro remembered Hunt whispering, "Homie … homie …" as he struggled to breathe.
Castro said he murdered Hunt ​— ​who'd grown tweaky and unpredictable from heavy drug use ​— ​because he had threatened to shoot fellow Krazies. Castro described how he and mutual friend Isaac Jimenez planned earlier in the morning to kill Hunt sometime that day. The opportunity came in the early evening when the three broke off from a party to drink beer under the Santa Barbara High School bleachers and to steal a car on the Mesa. Castro said he didn't want to shoot Hunt on the high school campus, where he had fond memories as a good student and varsity football player.
The detectives asked Castro if he felt bad about killing Hunt. He shrugged and replied, "It's just how it is." His tears, he said, were for his younger brother and sister, whom he would miss in prison.
This week, a jury of 10 women and two men in the ongoing trial of Castro and Jimenez watched video footage of Castro's lengthy interrogation and confession. As evidence for the prosecution, it's compelling and offers rare insight into the methods police employ to convince suspects to talk. But in a bold gambit to sway the jurors, Castro's defense team is also using the footage to argue he was unlawfully coerced into giving what they claim was a false confession. They promised Castro would now give an honest account of what happened that night and how it was Jimenez who gunned down Hunt.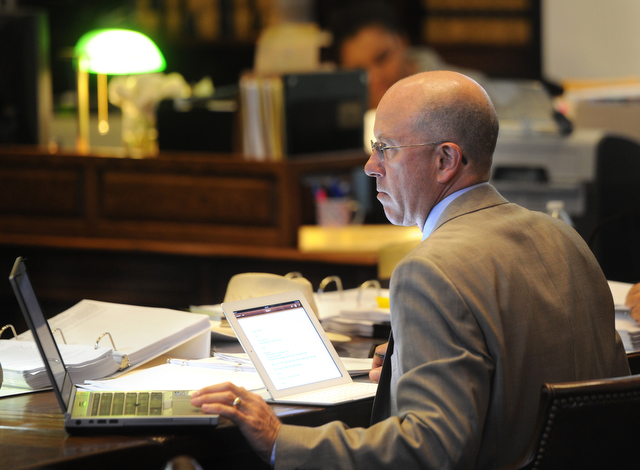 By Paul Wellman (file)