After nearly two decades, Lois Capps, the nicest member of Congress, is stepping down, setting off a tumultuous race that has been anything but nice. The 24th Congressional District, which encompasses the counties of Santa Barbara, San Luis Obispo, and a slice of Ventura, now has nine candidates vying for the office.
Of the nine, five are outsiders, all raising relatively little money and securing fewer endorsements. The top four, however, two Democrats and two Republicans, have enough cash and support to put up a strong fight. Adding to the drama is California's open primary system, which allows the top two vote getters in the June 7 election to be from the same party.
Between the two leading Democrats, the campaigns have been increasingly nasty. County Supervisor Salud Carbajal and City of Santa Barbara Mayor Helene Schneider ​— ​once rising stars and liberal allies —barely look at each other in public gatherings.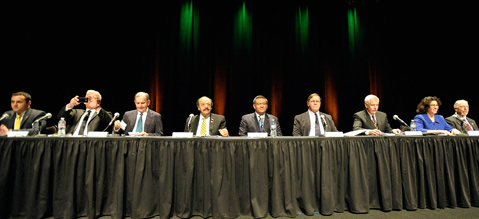 Phil Klein/Santa Maria Times