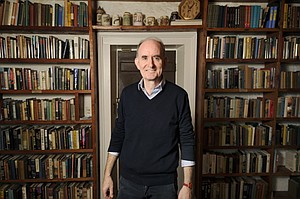 Photo: Paul Wellman
IMAGINING IRELAND: Professor of English Enda Duffy has been helping UCSB students engage with the literature and history of his native country since 1993.
Enda Duffy and the New Irish Renaissance
UCSB Professor Duffy Brings Irish Literature to a New Generation of Students
Thursday, March 17, 2016
Why is this St. Patrick's Day different from any other St. Patrick's Day? Because it's St. Patrick's Day 2016, and in less than two weeks, Ireland will mark the centenary of the 1916 Easter Rising with a series of public ceremonies. Beginning now and extending through the next six years, the Republic of Ireland will hold hundreds of memorial services, parades, concerts, lectures, exhibitions, and programs to remember the tumultuous years from the Easter Rising in 1916 through the Irish War of Independence of 1919-1921, and on to the establishment of the Irish Republic in 1922. With the extraordinary national effort that's going into this extended celebration, it's certain that more people than ever before will be led to actively acknowledge the history behind Irish independence. Ireland's national television network (RTÉ) has even produced a miniseries called Rebellion that's set to premiere in this country on the Sundance channel in April.