It was, as Mayor Helene Schneider put it, "an intense but important discussion" that dominated this Tuesday's City Council meeting when a medical marijuana dispensary destined for lower Milpas Street barely survived being smothered in its crib by throngs of critics and three of Santa Barbara's councilmembers. Given the public backlash, mainly from Eastside Latino families and church members, Schneider advised dispensary operator and Los Angeles transplant Ryan Howe to make community relations his top priority. "Not being seen as an 'other' is imperative," she said.
More than one member of the council also remarked on the full-circle sensation generated by the hearing, as City Hall for the last decade has navigated — and at times stumbled — through the murky waters of medical marijuana laws. Howe's club, to be called Canopy, will be one of the first to open in more than four years after Santa Barbara's once flourishing storefront landscape withered under a series of federal crackdowns in the spring of 2012. Another new, fully permitted collective is set to open on upper State Street in coming months.
Tuesday marked the second appeal of Canopy after the Planning Commission upheld its prior approval last month. Led by neighbor Pete Dal Bello, whose family owns a home and two businesses near the 118 North Milpas Street storefront, the opposition voiced oft-heard refrains around medical marijuana dispensaries — that they eat up precious on-street parking, attract criminals to the neighborhood, and tempt curious kids passing by. Father Pedro Lopez of nearby Our Lady of Guadalupe Church told the council he works hard to keep his congregation safe from corruption and crime. "This facility would compromise that greatly," he stated.
"History speaks volumes," said Martha Jimez, referring to five former dispensaries targeted by robbers. "Please don't let us live through this again. … Do what's right," she implored with the opposition's slogan, "find another site." Other speakers cited an Eastside neighborhood petition with nearly 200 signatures that demanded the dispensary be moved to another part of the city, like the West Pueblo Street medical center near Cottage Hospital. Pointing to Casa Esperanza, MarBorg, and El Estero, they said the Eastside has too long been the dumping ground for the city's more smelly and dangerous features.
Anna Rico said she was worried for her son, who passes the Milpas location every day to and from school, and for her Spanish-speaking neighbors, who have little understanding of how a medical marijuana collective operates. They see the club as nothing more than the purveyor of an illegal drug, she said. Abbey Fragosa lived next to the Humanity dispensary on Bond Avenue from 2006-2010. She took issue with claims that dispensaries don't generate crime, explaining she was the victim of many "negative and frightening" confrontations with Humanity patients. "No amount of scientific studies can represent the fear I experienced," she said.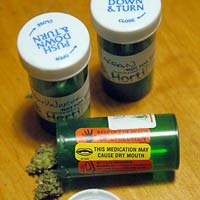 By Paul Wellman (file)