This November, exactly 20 years after California became the first in the union to decriminalize medical marijuana, state voters will decide once and for all if they can get high for fun, legally.
Four other states and the District of Columbia have already passed recreational cannabis laws, but if Proposition 64 is approved in California ​— ​the sixth largest economy in the world where marijuana is the biggest cash crop ​— ​it will send waves of drug-policy sea change across the country.
The creators and supporters of Proposition 64, the Adult Use of Marijuana Act, or AUMA, say the ballot measure will finally legitimize an activity in which millions of Golden State residents already partake. They argue that taxing and regulating the commodity will create a tax boon of a billion dollars a year, benefiting youth programs and law enforcement, and that the new state oversight will set quality-control and pricing standards that would edge out Mexican cartels.
Opponents, however, say the initiative would expose more children to a gateway drug, flood the roads with stoned drivers, and actually increase black-market activity. More immediate is the fact that marijuana remains classified as a Schedule I drug by the Federal Drug Enforcement agency, which puts it in the same category as heroin and ecstasy. U.S. Senator Dianne Feinstein and many sheriffs and district attorneys have all come out against the ballot measure.
Nevertheless, Prop. 64 appears poised for voter approval ​— ​Lieutenant Governor Gavin Newsom, the California Medical Association, mega-rich tech philanthropist Sean Parker, and many others support it; the "Yes" campaign has vastly out-fundraised the "No" contingent so far, $11.7 million to $173,000; and the most recent polls showed 63.8 percent of respondents favor legalizing recreational marijuana. In 2010, California voters narrowly rejected a similar but less carefully crafted ballot initiative.
Not as measureable has been the steady cultural acceptance of marijuana as a viable medical aid and means for adult relaxation. The seeds of this revolutionary change, planted in the '60s and '70s, now seem to be bearing political fruit. In November, eight more states will decide whether to allow recreational or medical marijuana. That most certainly will widen the gap between state and federal marijuana laws, therefore increasing pressure on Congress and the next presidential administration to reconcile the conflicting policies.
Santa Barbara County would surely be affected by the AUMA, as it's uniquely positioned to grow an even healthier marijuana industry than it already supports. Even now, farmland and greenhouses are being bought by Prop. 64 prospectors. The City of Santa Barbara's relatively permissive laws allowing medicinal storefronts and delivery services have perhaps paved the way for a recreational sector. And as a tourist destination that boasts world-class wine and beachside sunsets, Santa Barbara may one day, too, be marketed as a premier destination for cannabis connoisseurs.
However, detractors say, all this could also portend the ill effects of a speculative market. Police officials and neighborhood activists point to the crime and lawsuits that came with the city's initial gold rush of medical marijuana dispensaries, wiped out five years ago in a federal crackdown. Prop. 64 opponents in Santa Barbara also worry that the county and our cities will never see a dime of the new tax dollars that a ravenous state government will be collecting.
With election season underway, Santa Barbara's politicians are starting to voice strong opinions on both sides of the issue, as it will be up to them whether recreational marijuana businesses are even allowed in their jurisdictions. The medical marijuana community is watching the ballot item with intense interest, curious how it will affect the price of medicine. And casual pot smokers, from those harking back to the 1960s to young adults who just became of legal age, are beginning to wrap their heads around the idea that they might soon be able to stroll into a store and buy a few joints.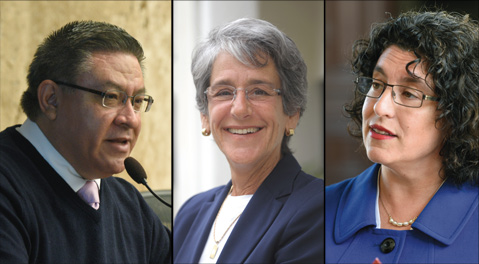 By Paul Wellman (file)