Update, 12:00 p.m.: Captain Dave Zaniboni of the Santa Barbara County Fire Department said emergency crews have rescued approximately 22 people from El Capitan Canyon & Resort Campground. No injuries were sustained. Fire personnel are conducting a secondary search of the campground, but there are no reports of missing persons or possible remaining victims.
After an initial rescue operation this morning, those who remained on the property were transported out by a two-track vehicle that managed to make it through the debris. The campers have now been removed from the scene by bus.
At 10:30 a.m. this morning, an additional rescue took place just south of Circle Bar B Ranch after a County Fire helicopter flying over Refugio Road spotted a flooded vehicle below. Soon after, the helicopter crew saw a woman stranded on higher ground, calling for help. She was promptly airlifted to the Santa Barbara Airport, before being transported to Cottage Hospital. She complained of possible hypothermia.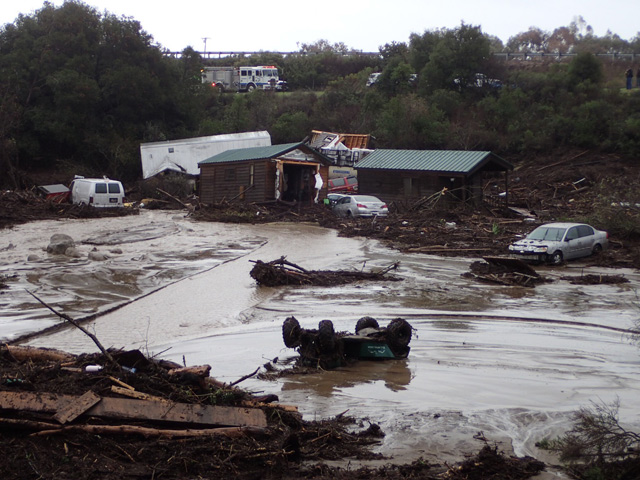 Mike Eliason / Santa Barbara County Fire