"Stop Fcking the Planet": Those were the words on Debbie Harry's black cape as she walked onto the Bowl stage to raucous cheers and applause. She also wore a black-and-yellow headband in support of the bees. It seemed a silly sort of rebelliousness, but just seconds later Blondie launched into the band's hit song "One Way or Another," turning smatterings of laughter back into fervent cheers. This continued for the rest of the night as Harry charmed the audience with her remarks between songs as well as with the music itself. The band played numbers from all of their deep discography, mixing tunes like "Fun" and "My Monster" from their most recent album with classic singles such as "Hanging on the Telephone." They closed with "Heart of Glass," the song that started it all.
Photo Gallery
Blondie and Garbage at the Santa Barbara Bowl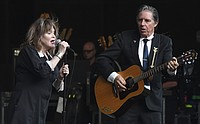 Blondie and Garbage rock the Santa Barbara bowl with openers Exene Cervenka and John Doe of the iconic L.A. punk band X.
Rewinding an hour into the night, Garbage also blew the audience away with its hard-hitting tracks. While the band didn't have quite as much kinetic energy as Blondie, lead singer Shirley Manson's performance was mesmerizing. Right from the start, Garbage came out swinging, and it wasn't until their fourth song was finished that the audience got a breather from the Wisconsin band's brand of heavy punk rock. Just as opening-set artist John Doe predicted at the beginning of the night, "Garbage will knock your socks off and then Blondie will kill ya."